Hi friends. Another week, another recipe for you!
After last weeks 
Mint Recipe Wrap-up
 I realized my blog was seriously lacking some mint flavoured recipes. So I decided it was time to remedy that. Immediately. To be honest I don't know how I let this happen since I love mint flavoured food so much. Oh well, nothing a few new recipes can't remedy right? Right.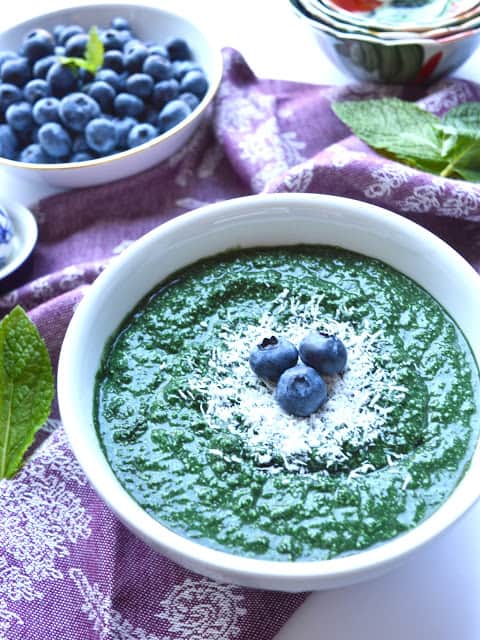 So it's been a good couple of weeks for me I must say. In the last week I have gotten to see both Monsters and Men and Mumford and Sons. Yep two of my favourite bands within 7 days of each other. Amazing! I brought my sister with me to Mumford and Sons for her birthday. Aren't I a good sister? It's so nice to have a life again! None of this studying 24/7 like I was doing last year. Never again if I can help it. And now I am on vacation. In Mexico to be exact. Its sun and beach and sand all day for me right now. I am at an all inclusive resort so the food situation is a little interesting. I am thinking about do a post on surviving an all inclusive while on the paleo diet. Would any of you be interested in that? Please let me know if you are. It actually hasn't been as bad as I imagined it was going to be. Thank goodness! There is nothing worse than getting sick on vacation. Been there, done that…
But let's talk about these Mint Breakfast Bowls for a minute shall we? They are a little bit sweet, very minty and extremely delicious! If you like mint flavoured food you are going to like these. I find this recipe really refreshing. I have actually made them three times in the last couple weeks. That's how much I like them. And they are super easy to make. Throw the ingredients in a blender, place in the fridge overnight and enjoy in the morning. Simple as that! They are slightly sweet because of the bananas in them, but not overwhelmingly so. You actually can't taste banana at all. Only minty deliciousness. Plus they contain one of my favourite superfoods, grassfed gelatin. If you haven't yet discovered the amazing power of this ingredient you can read all about it in this post.
These also contain an ingredient that is relatively new to me. Spirulina. This is what gives these their amazing green color. And what is spirulina do you ask?  Spirulina is a natural algae (cyanbacteria) powder that is very high in protein and a good source of antioxidants, B vitamins and other nutrients. It is mostly made up of protein and essential amino acids, and is naturally high in iron. It is also praised for its high vitamin B12 content. There are many health benefits associated with consuming spirulina including improved teeth mineralization, improvement in allergies, increased fat burning during exercise and so much more! I am actually planning on doing a post dedicated to this little superfood so stay tuned for more information.
In the mean time I will let you get to the recipe!
And as always I would be thrilled if you followed my social media pages on Instagram, Facebook, Pinterest and Twitter.
Mint Smoothie Breakfast Bowls
(Paleo, SCD, Vegan, Whole 30, No Added Sweetener)
Ingredients
2

ripe bananas

1/2

cup

full fat coconut milk

1/3

cup

melted coconut butter or coconut manna or coconut cream concentrate

2

tbsp

melted coconut oil

2

cups

packed fresh spinach

1/3

cup

packed fresh mint leaves

1

tsp

peppermint extract

omit for Whole 30

2

tsp

spirulina powder

omit for SCD

carob or chocolate chips, fresh fruit, shredded coconut, chopped nuts

Optional
Instructions
Place all the ingredients, except the gelatin, into your high speed blender and blend until smooth

Stir in the gelatin until dissolved (omit this step for vegan)

Transfer to a bowl and place in the fridge