This is the best chicken taco seasoning. This homemade seasoning mix is easy to make, full of flavour and way better than any store bought seasonings. It will make your chicken tacos taste amazing!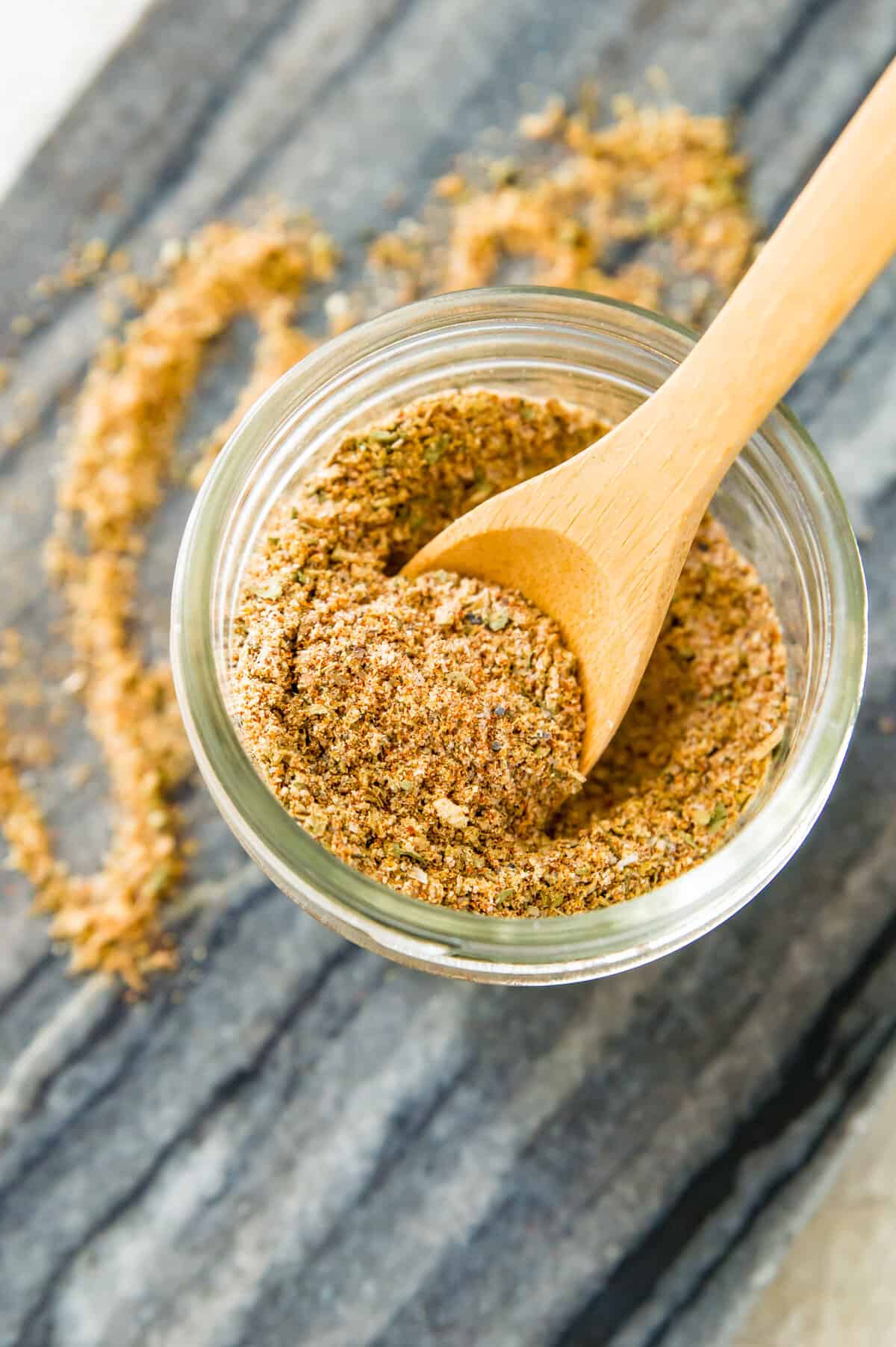 Table of Contents
Why you will love this recipe:
This seasoning mix is quick and easy to make.
It tastes amazing! It has the most amazing authentic Mexican flavour and is better than any store bought seasoning mixes or packets.
It's cheaper to make your own seasonings rather than buying pre-made store bought versions so this is a great way to save money on groceries.
This recipe is made with simple pantry staple seasonings and herbs.
This taco seasoning is healthy, sugar free, gluten free, dairy free, vegan, paleo, Whole30, keto, low carb and free from any preservatives or processed ingredients. It's also lower in sodium compared to most taco seasoning packets.
You can use this taco seasoning for ground chicken tacos, shredded chicken tacos or cubed chicken tacos and you can make chicken tacos with either chicken breasts or chicken thighs.
You can also use this taco seasoning for beef tacos, fish tacos, pork tacos and fajitas. It can be used for ground beef, ground turkey or ground pork.
Because this seasoning is homemade it's customizable - you can change up the seasonings and make it as mild or as spicy as you like.
Taste and texture:
This Mexican seasoning is full of flavour! It is a little spicy, a little smokey, a little savoury and nice and bold.
Key ingredients and substitutions:
Cumin - cumin is a classic Mexican spice that gives this taco spice blend so much flavour and a little heat. Be sure to use ground cumin rather than cumin seeds to make this recipe.
Oregano - oregano is a nice mild herb that helps contrast the spicier spices in this mix. You can either use oregano or Mexican oregano.
Smoked paprika - smoked paprika adds a nice bold, smokey flavour to this spice blend. Paprika is one of the best seasonings for chicken. If you don't have smoked paprika you can use paprika instead.
Salt - salt not only adds flavour but helps enhance the taste of the other spices in this mix. I recommend using sea salt for the best flavour.
Ground black pepper - pepper adds even more heat and boldness to this mix. You could use either ground black pepper or ground white pepper for this recipe.
Chili powder - chili powder adds more spicy flavour to this recipe. Be sure to use a pure chili powder rather than a chili powder blend.
Garlic powder - garlic flavour adds delicious savoury flavour and enhances the flavours of the other spices.
Onion powder - onion powder is a pantry staple spice that makes spice blends taste so much better!
Dried cilantro - cilantro is a classic Mexican herb that people either love or hate. I personally love the taste of cilantro but if you don't like it or don't have dried cilantro simply omit it from the recipe.
How to make:
Step one:
First, place all the herbs and spices in a bowl or jar.
Step two:
Then mix the spices well until the seasoning mix is well combined.
Recipe variations:
To make this mix spicier add another teaspoon of chili powder or 1/2 teaspoon of red pepper flakes or cayenne pepper.
This recipe is good for about a pound of chicken, so if you are cooking more than that you can double or triple the recipe.
If you don't have smoked paprika you can use paprika instead.
You can make this seasoning lower in sodium by reducing the amount of salt.
Chef's tips:
Use fresh spices and seasoning for the best, freshest taste.
Use a small funnel to transfer this DIY spice blend to a jar or other storage container.
How to use:
For the most flavour, you want to season your chicken before cooking it when making chicken tacos. You can use either chicken breasts or chicken thighs to make chicken tacos.
If you are using ground chicken you don't need to season the chicken before cooking it. Simply brown the meat in a pan and add the seasoning while the meat is cooking.
You could also use this mix to make a delicious Mexican dip. Simply mix equal parts mayonnaise and sour cream or Greek yogurt and add as much seasoning as you prefer.
This seasoning works great as a spice rub for other meats, seafood or veggies especially during grilling season. I love adding it to roasted potatoes and French fries. It can also be used on eggs, tofu, shrimp, cod or mahi mahi.
How to store:
Store this mix in a mason jar or airtight container in a cool dark place. It will stay fresh for months if you store it this way. Be sure to store it out of sunlight. You can also store in in the fridge if you prefer.
Frequently asked questions:
Is chicken and beef taco seasoning the same?
Chicken and beef taco seasoning is quite similar, but normally beef taco seasoning is a littler spicier.
How much chicken is this seasoning mix for?
This mix will season about one pound of chicken. If you have more meat than that simply double or triple this recipe.
Other recipes you will love:
Since you made it this far we are basically best friends so be sure to follow me on Instagram, Pinterest, TikTok and Facebook where I share even more recipes and healthy living tips! And don't forget to leave this recipe a star review before you go!
Recipe
Chicken Taco Seasoning
This is the best chicken taco seasoning mix. It's so easy to make and will help you make the best tasting tacos!
Print
Pin
Rate
Instructions
Add all the ingredients to a bowl or jar.

Mix the ingredients until they are well combined.
Notes
This recipe yields approximately 5 tablespoon of spice mix. 
This seasoning mix is good for about 1 lb of chicken. If you are making more, double or triple the recipe as needed. 
Store this spice mix in an airtight container or jar in a cool dark place for months. 
Nutrition
Calories:
14
kcal
|
Carbohydrates:
3
g
|
Protein:
1
g
|
Fat:
0.4
g
|
Saturated Fat:
0.1
g
|
Polyunsaturated Fat:
0.1
g
|
Monounsaturated Fat:
0.2
g
|
Sodium:
475
mg
|
Potassium:
68
mg
|
Fiber:
1
g
|
Sugar:
0.2
g
|
Vitamin A:
351
IU
|
Vitamin C:
0.3
mg
|
Calcium:
34
mg
|
Iron:
1
mg