Whole30 Slow Cooker Beef Short Ribs are on the menu this week. Now, short ribs are naturally a tougher cut of meat, but when you make them in the slow cooker, like with these Whole30 Slow Cooker Beef Short Ribs, they turn out so darn tender. Add these Whole30 Slow Cooker Beef Short Ribs to your menu this week and you will make your whole family happy. 
Happy 2018! Are you kicking off your year with a Whole30 to get you re-set? If you are, I am with you, and in which case this week's recipe is for you: Whole30 Slow Cooker Beef Short Ribs. I am normally not much of a short rib fan, because I find them to pretty pretty tough and chewy. But not when they are cooked like this. These Whole30 Slow Cooker Beef Short Ribs are fall off the bone tender. Which is exactly the way ribs should be if you ask me.
How has your new year been so far? Mine started off brutally. I got the flu from hell this year. I was bed bound for an entire week. I actually thought I had contracted C.diff and went and got some stool testing done because it was so bad. I have honestly not been that sick in years. It was brutal! I basically spent my whole week off in bed. I had all of these grand plans of things I wanted to do while I was on vacation (just a stay-cation) and none of it got done. It was pretty darn frustrating. But hey, stuff happens right? One thing I am trying to get better at this year is rolling with the punches and letting things go more easily. So this is just one of those times when I gotta just let it go. The to-do list will have to wait. It also meant that I started my Whole30 6 days behind schedule. So I have to modify my calendar a little bit. Oh well. There are many worse things that could be happening right now right? Right.
But if you're like me, and doing a Whole30 in January you are going to be very happy about this recipe. Even if you aren't doing a Whole30 you are going to like this recipe. Because who doesn't like ribs? Don't even answer that. If you don't like ribs I don't think we can be friends. Especially when they are grass fed ribs like these Whole30 Slow Cooker Beef Short Ribs. Grass fed beef is just so much tastier than grain fed beef. Once you taste it you will never want to go back I promise. Plus, the health benefits of grass fed beef are just incredible. Grass fed beef is an excellent source of fat soluble vitamins and it has an omega 3 to 6 ratio that is almost 1:1, unlike grain fed beef which has very high omega 6 levels, and is hence a very inflammatory (and unhealthy) food.
One of the most common questions I get asked by my patients when they are switching to the paleo diet is whether changing their meat sources is really that important and my answer is always an emphatic YES! I believe this so firmly that I wrote an entire post about it called The Biggest Mistake You Can Make On The Paleo Diet. Another great resource that explains just how important this is is Dr. Sarah Ballantyne's book, Paleo Principles. If you are looking for a great, scientifically-backed resource that explains the paleo diet that book cannot be beat. I just got my copy in the mail last week and I am blown away by that book. It's really more like a text book but I highly recommend it.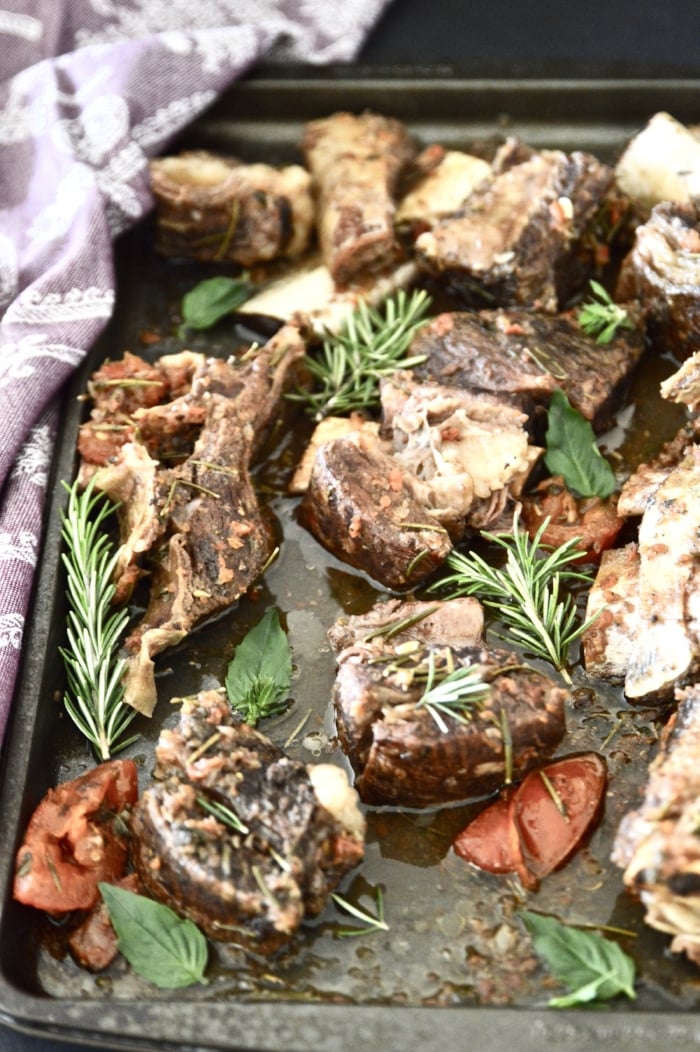 Do you have a favourite kitchen tool? I have a few, but my slow cooker is definitely in my top three. I use that thing constantly! If you are new to a real-foods type diet, I highly suggest you invest in one. They are one of the most affordable kitchen tools you can buy, and it makes making delicious meals so, so easy. I use my slow cooker to make meals like my Paleo Slow Cooker Maple Cranberry Beef Roast, Slow Cooker Pineapple Pork Ribs, and Texas Slow Cooker Beef Chili. This is the slow cooker that I personally use and love. 
Now, these Whole30 Slow Cooker Beef Short Ribs would pair very well with some cooked broccoli, cauliflower rice or even spaghetti squash. Really they would go well with almost any vegetable side. I would love to hear what you end up paring them with!
Leave your email to be sent subscriber exclusive deals, recipes and other goodies. No spam ever. Promise!
Whole30 Slow Cooker Beef Short Ribs
Ingredients
6

lbs

grass-fed beef short ribs

6

medium sized tomatoes, chopped

1

medium white onion, chopped

2

tbsp

raw, local honey

substitute 1 fresh peach, chopped for Whole30

2

tbsp

apple cider vinegar

2

tbsp

dried rosemary

1

tbsp

Herbes de Prevence Spice

1

tsp

sea salt

1/2

tsp

ground black pepper

10

fresh basil leaves
Instructions
Place all the ingredients (except the ribs) into your food processor or Vitamix and blend well until smooth

Transfer the sauce to your slow cooker

Add the ribs and stir to coat with the sauce

Turn the slow cooker onto low heat and cook for 8 hours
You might also like
Paleo Double Chocolate Avocado Brownies
Paleo Caramel Apple Oatmeal (Paleo, Gluten Free, Grain Free)
Pin this recipe for later: