The Beautycounter foundation is a great, light to medium coverage foundation that looks and feels really natural. Here I share my Beautycounter foundation review, how to use it, and my before and after photos when wearing it.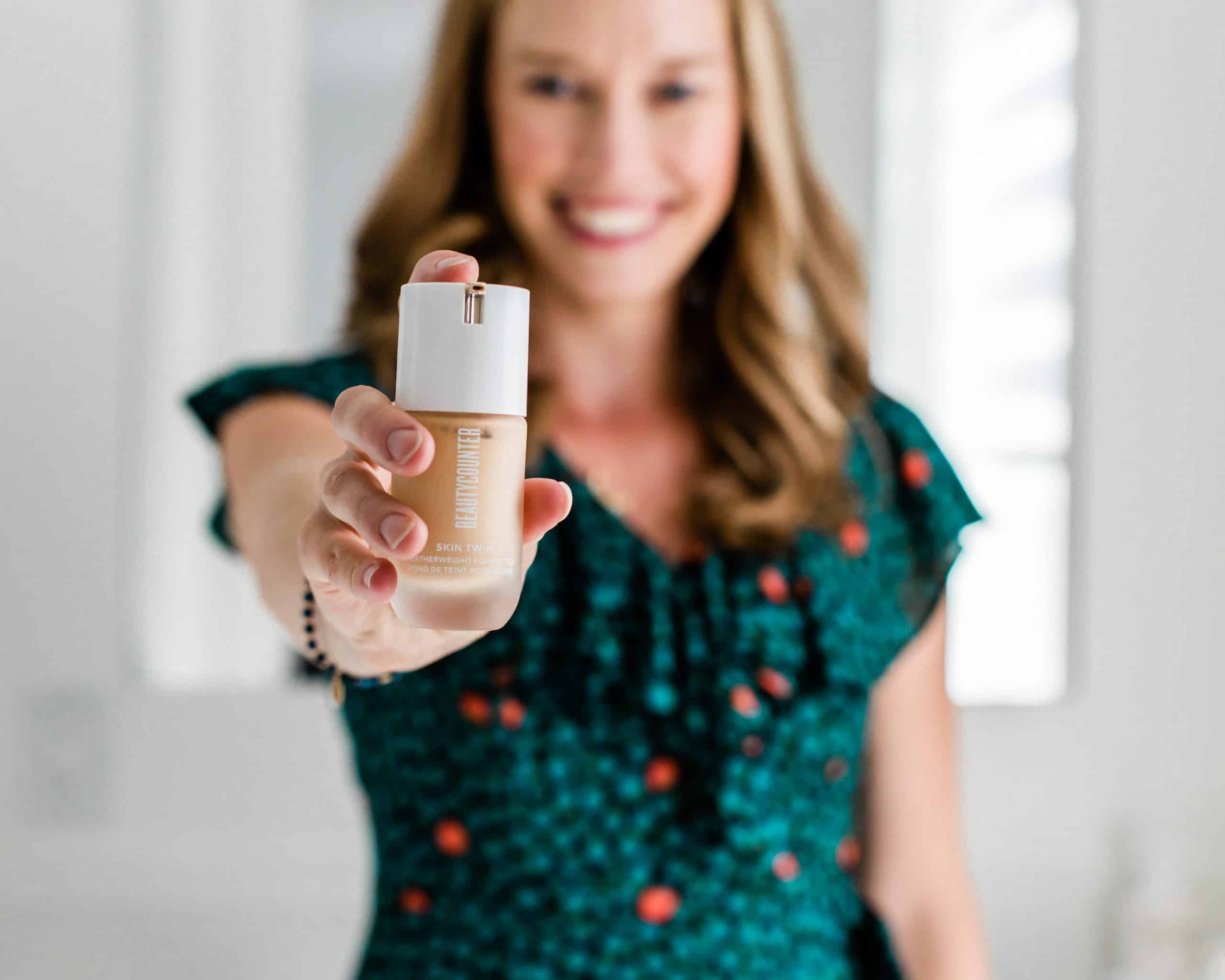 Beautycounter recently released their new foundation called Skin Twin Featherweight Foundation so I felt it important to do an honest review for you! Truth be told I don't love the feel of most foundations. I hate feeling like I have something caked on my skin or like I am wearing makeup, so when Beautycounter re-did their foundation I was really hesitant. I really liked their old Tint Skin Foundation so I was nervous that I wouldn't like this new formula as much. But I am pleased to say I like it even better than the old version!
You can see my before and after photos below. In the before photo I am not wearing any makeup, while in the after photo I have the Skin Twin Foundation on and nothing else.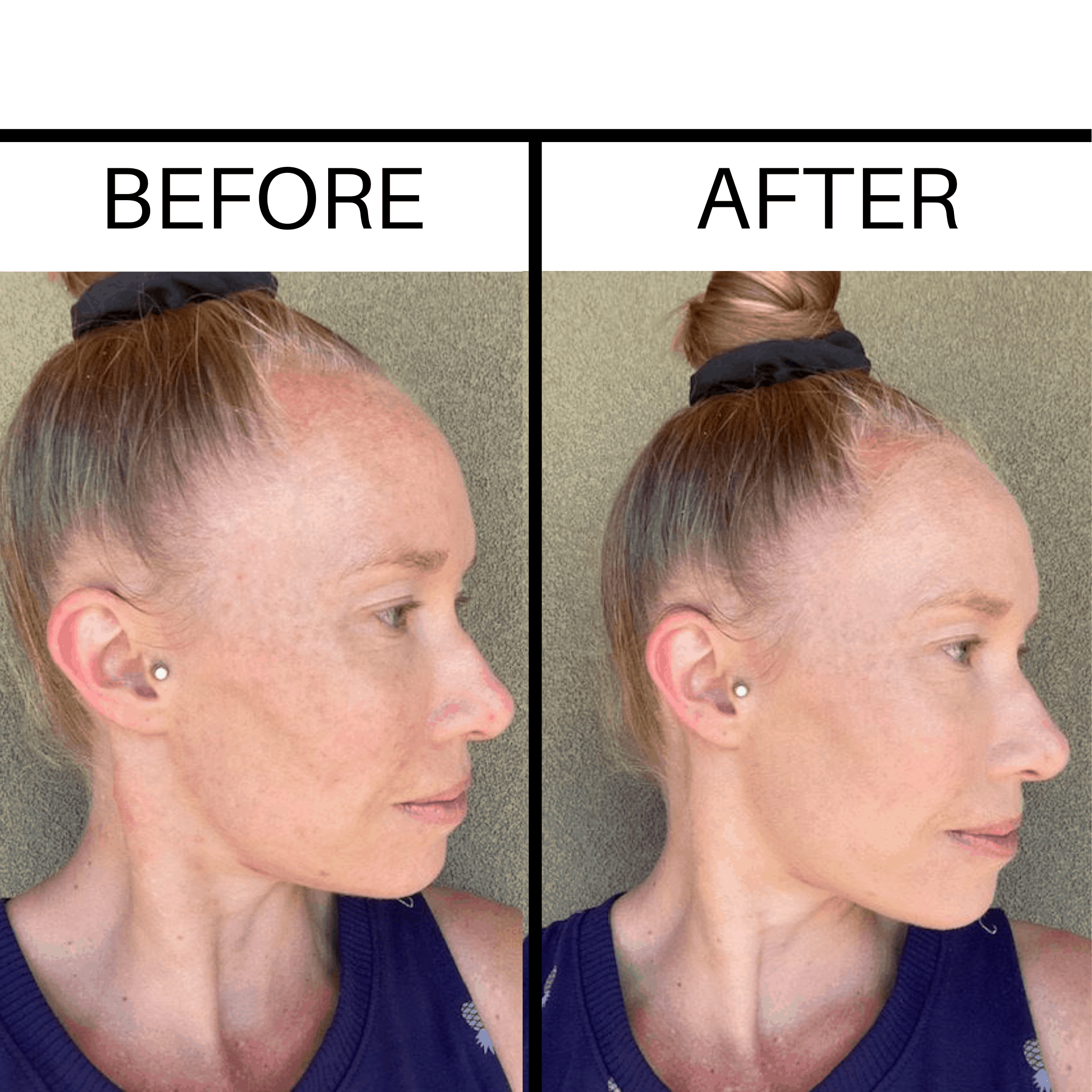 You can see that the foundation evens out my skin tone and the slight redness that I had on my nose, cheeks and forehead. It also gives my skin a nice healthy glow while still allowing my freckles to show through. I think it looks really natural and it feels so nice on! It doesn't feel like you are wearing makeup at all, which for me is a must. If it feels thick and heavy I won't wear it. Plus I find that the foundation lasts all day and doesn't require any touch ups which is another added bonus.
Beautycounter Foundation Highlights
It comes in 18 different shades, so you can easily find a color that matches your skin tone. The foundation is buildable, so if you want more coverage, simply add another layer, which is also great for covering dark circles, scars or acne spots.
The foundation provides light-to-medium coverage that lasts all day, and uses color-true hydrophobic pigments to help it last. It also contains hyaluronic acid which helps plump and smooth the skin right after being applied, and overtime helps to minimize appearance of fine lines and wrinkles with regular use. In other words, with regular use it will actually help your skin look and feel better!
Beautycounter Foundation Safety
It is very important to me that the products I use in my home and on my skin be good for my health. That is the biggest reason why I use Beautycounter's products. If this is a new topic for you I have written more about the importance of choosing safe cosmetics before and you can read more in this post. Specifically when it comes to makeup, a lot of makeup can be contaminated with harmful heavy metals. And unfortunately most brands on the market don't check for these contaminants. Beautycounter won't accept that. They test every batch of their colour cosmetics for heavy metal contamination. They test the raw ingredients 3 times, and the final product 3 times to ensure they are safe. And if those test results show heavy metals at concentrations that are concerning, they immediately investigate and address potential contamination issues with our suppliers.
Beautycounter is also highly selective when it comes to the pigments they use: out of the 65 cosmetic colourants allowed in the U.S., Beautycounter prohibits the vast majority of them, only using 18 approved colorants in their colour cosmetics.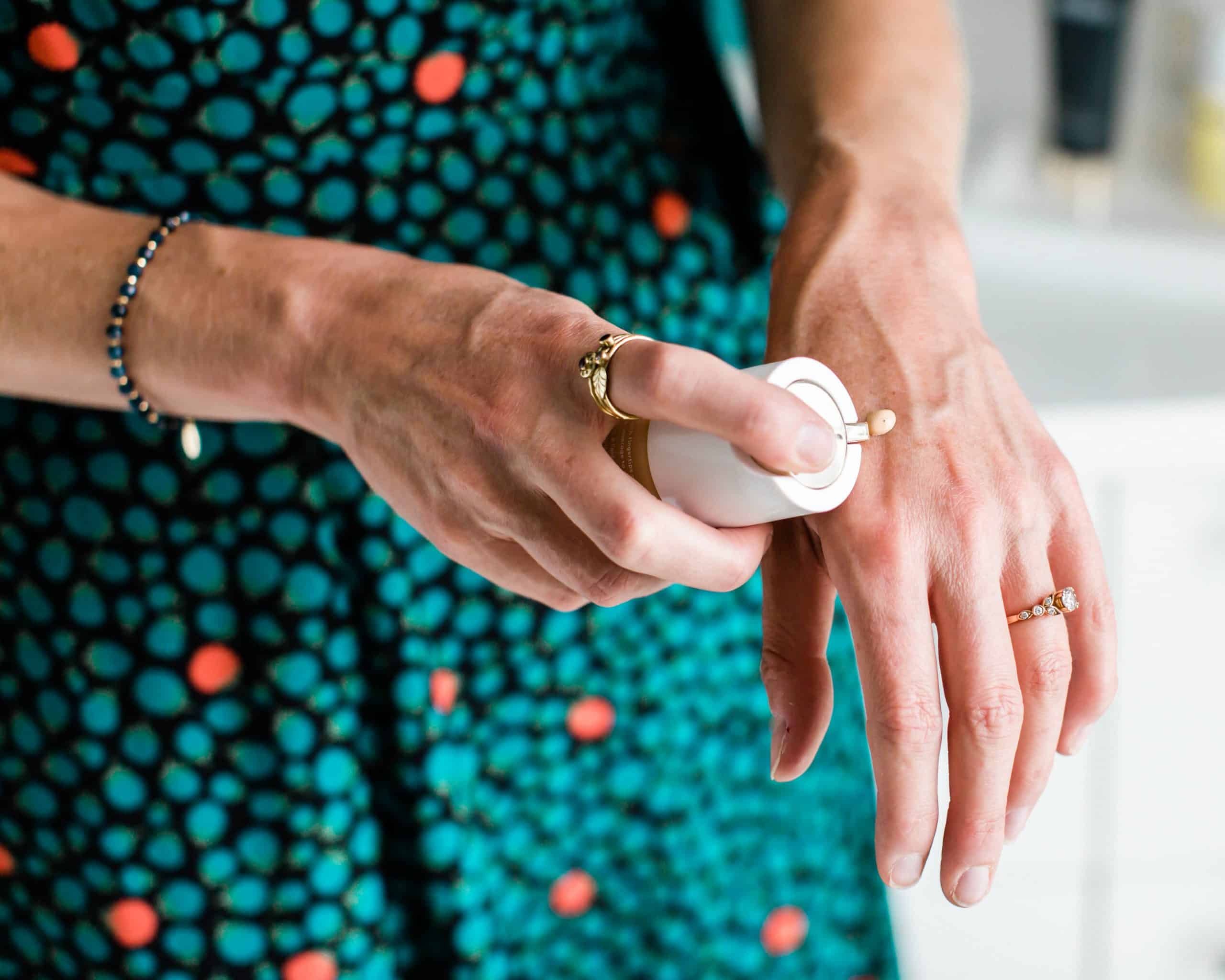 Beautycounter's Foundation Certifications
The Skin Twin foundation is both Leaping Bunny certified and EWG verified.
Beautycounter's Foundation Sustainability
The Skin Twin fountain comes in a glass bottle, meaning that it can easily be recycled or even re-used for other purposes. And by using glass from North America instead of plastic they are saving an estimated 26% of water and fossil fuels. Glass also ensures that harmful chemicals and hormone disruptors won't leach from the packaging into the foundation (which can happen with certain types of plastic packaging).
How to use the Beautycounter foundation:
For light coverage, apply 1-2 pumps to the palm of your hand and apply to your face using either your finger tips or a foundation brush. I personally prefer using a beauty blender for this foundation rather than a brush. I find the brush can make it look a bit streaky, while the beauty blender gives the foundation such a beautiful, natural finish.
For medium coverage, apply 2-3 pumps to the palm of your hand, then use your fingertips to pat and blend into the skin. Continue to apply until you achieve your desired coverage.
Another tip for using this foundation is to shake it before using so that the color goes on evenly.
How to save money on Beautycounter foundation:
Get 20% Off!
If you have never shopped with Beautycounter before, they have been kind enough to give me a 20% off code for new customers. Simply shop through this link and use the code CLEANFORALL20 at checkout. This code will work for 20% off your entire purchase so if you are interested in any other items simply add them to your cart.
Get the foundation as part of the flawless in five makeup set
Flawless in Five is Beautycounter's makeup set and it's a great option if you're looking to get a simple, complete makeup set. The set comes with Skin Twin foundation or Dew Skin tinted moisturizer, blush, concealer, brow gel or pencil, mascara, and lip gloss. You get to choose all your shades, and you save 25% when you buy the products as the set instead of buying each product individually.
Sign up for the Band of Beauty membership
The Band of Beauty membership is our VIP membership, kind of like Sephora Rewards or Nordstrom Rewards. It gets you 10% back on every purchase in the form of a product credit, free shipping and a free gift when you enrol. There is no auto ship or requirements for you to purchase regularly. It truly is the best way to save the most money. If you are curious to learn more, you can check here, or email me at erin.carter.md@gmail.com and I can answer your questions!
Frequently asked questions:
How do I find the right shade for my skin?
Beautycounter has a really great shade finder that you can use! Just click here and it will guide you through. But if you have more questions or need any help just let me know! I would love to help. I personally use the shade Medium 310 for reference.
How long will the foundation last?
This will really depend on how often you use it, and how much you do use when you apply. I got my first bottle in the summer (2020) and use one pump 3-4 days per week and 4 months later I have only used about a third of the bottle so I suspect it will last me about a year.
What if I purchase the wrong shade?
That's no problem! Beautycounter has an amazing 60 day money back guarantee so if you get the wrong colour you have nothing to worry about! If you shop with me as your consultant just reach out to me and I will help you with the return process.
Can I get a discount with Beautycounter?
Yes! Beautycounter has been kind enough to give me a 20% off code for my readers. If you are a new customer, simply shop through this link and enter the code CLEANFORALL20 at checkout to save 20% on your order!
I hope you found this helpful but if you have any questions please let me know! If you'd like to shop the foundation, just click this link. And if you are new to Beautycounter, please reach out before you order. I always do something special for my first-time customers! Just email me at erin.carter.md@gmail.com and I would be happy to help!
Since you made it this far we are basically best friends so be sure to follow me on Instagram, Pinterest, TikTok and Facebook where I share even more recipes and healthy living tips! 
Other health information you will be interested in: