The bean protocol or the Karen Hurd bean diet is a way of eating that is reported to help with many different health issues. The protocol involves eating beans or lentils regularly while avoiding certain foods and other toxins for at least 3 months. In this post I share what the bean protocol is, the rules, and how to do it.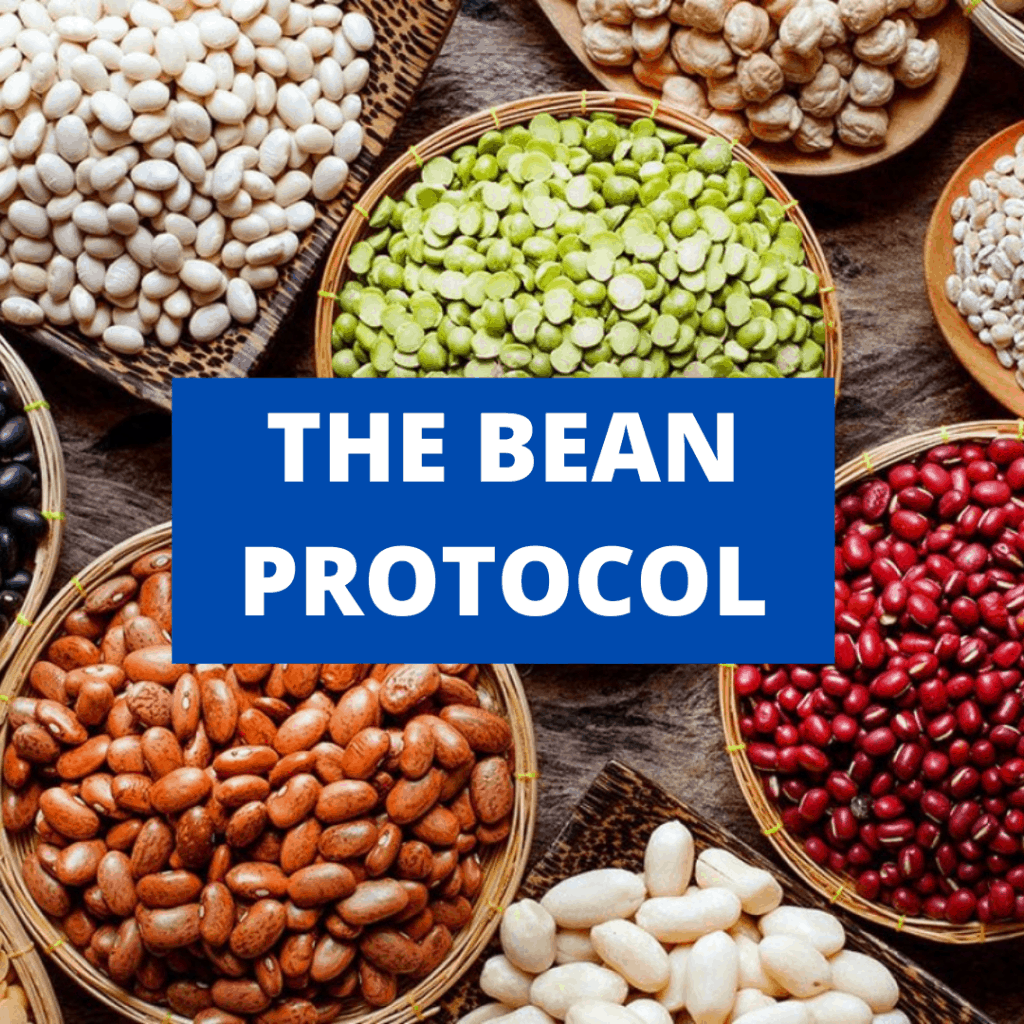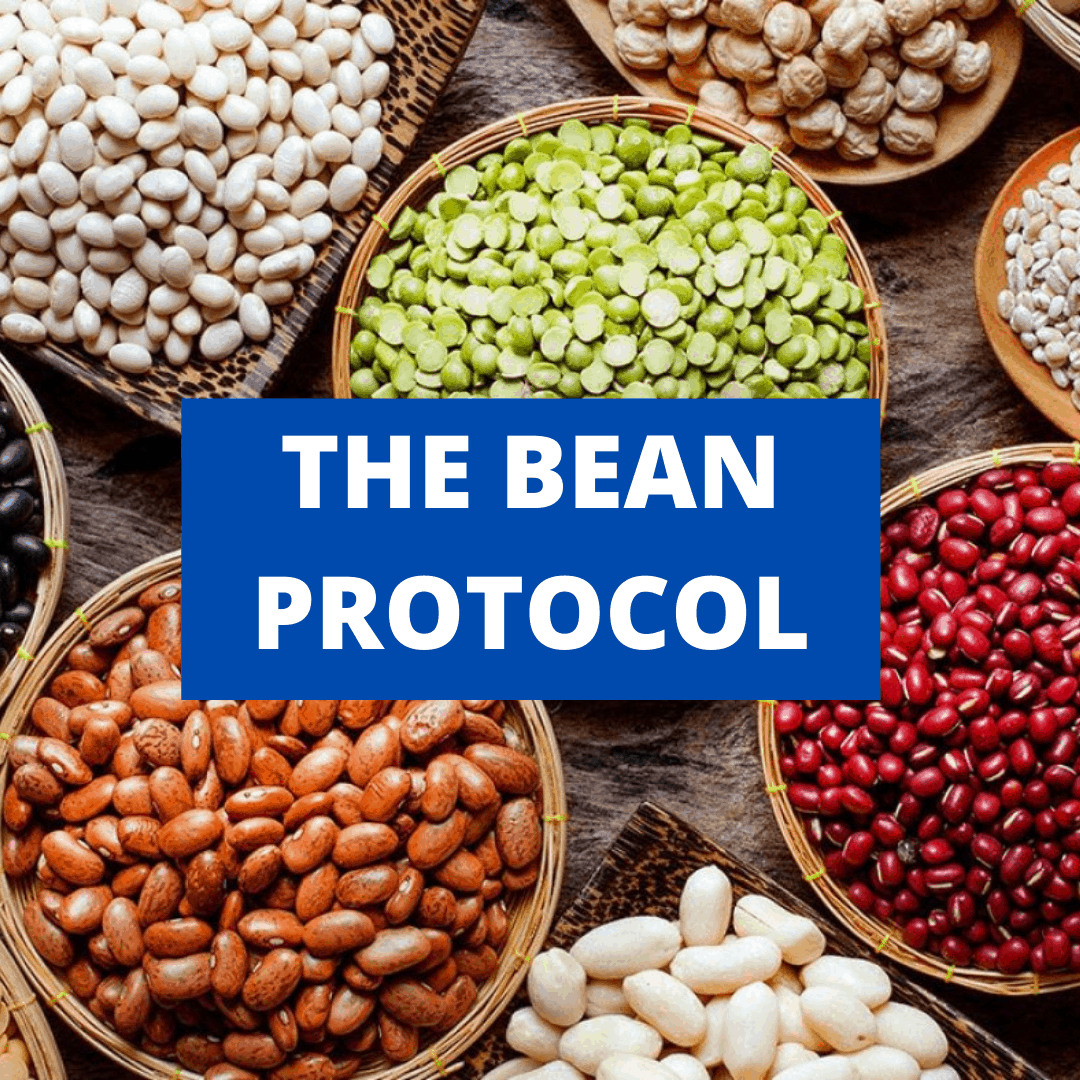 Ever since Juli from PaleOMG shared her progress with the bean protocol I have been curious to learn more about it. Truth be told I had never heard of it before but have been seeing more and more nutritionists talk about it recently so decided it was time I do some of my own research.
What is the bean protocol?
The bean protocol or bean diet was originally developed by a woman named Karen Hurd who used the diet to cure her young daughter of her health issues. Karen Hurd is a former bio-chemist for the military and in 1989 her 18-month-old daughter was poisoned by a high concentration of pesticides. Her daughter experienced seizures, warts, infections, allergies and other health problems as a result.
The doctors Karen went to couldn't explain or understand her daughter's ailments and told her that her daughter was dying and there was nothing that could be done. Unsatisfied with that answer Karen took it upon herself to study the human body at her local medical library.
After extensive research, she made a nutritional treatment for her daughter and fed it to her via syringe. Within two weeks, her daughter's symptoms started to improve and by week six she had her healthy baby girl back. This was the beginning of what would later be known as the bean diet or bean protocol.
The bean diet is basically what it sounds like: eating a lot of beans (or lentils)! The idea behind eating so many beans is that they are high in soluble fibre and soluble fibre binds with your bile in the digestive tract. This is said to be beneficial because your liver stores a lot of fat-soluble toxins, excess hormones, and other waste that we don't want getting into our bile, and soluble fibre helps get rid of that by binding with the bile for us to then eliminate through our bowel movements. If we don't have soluble fibre in the gut, most of that bile would get recycled and re-used instead. It's felt that this toxin filled bile can then manifest as disease.
With the bean protocol, you are supposed to eat beans or lentils 3-6 times per day, for at least 3 months.
When you eat your beans on the bean protocol you can eat them on their own, or with lean protein, vegetables, or a small amount of fruit (although you are supposed to limit fruit as much as possible when on the bean protocol).
You are supposed to avoid eating oils or fats at the same time as your beans because you don't want the fats to bind with the soluble fibre. You want to separate your beans from fat by at least 1.5 hours. You want the soluble fibre to bind with the bile for optimal detox support. How many beans, and what types of beans are eaten are individualized based on your health conditions and needs.
And besides eating all those beans, you are also supposed to cut out sugar (including fruits), caffeine and perfumes. The idea behind these eliminations is that coffee and sugar stimulate adrenaline, which can make health issues worse, while fragrances can contain endocrine disruptors and contribute to hormonal imbalances. You are also supposed to do gentle exercise daily, avoid strenuous exercise, and limit your alcohol intake.
There are also many other things you need to do during the bean protocol and other rules you are supposed to follow including:
Avoiding dairy
Eating a cup and a half salted nuts a day (wait one hour and a half after eating beans and one hour after nuts to have beans again)
Not eating bacon, sausage, or fatty meats
Not having coconut oil
Not eating soy
Not having supplements - of course this one needs to be individualized. If you are on prescribed supplements please don't stop taking them!
Eat a palm sized protein at each meal (eggs, fish, lean steak, no dark meat)
Eat 3 serving sizes of vegetables per day
Drink 3/4 gallon of a water a day, with food, and you are supposed to drink room temperature water or warmer
Get 56 hours of rest a week
You can have condiments as long as they have less than 5g of sugar serving
If you would find it helpful, I created a free printable PDF that you can download below to help you with the bean diet:
What is so special about beans?
Beans and psyllium husk contain the most amount of soluble fiber. Psyllium husk is great but void of other nutrients, so beans are preferred. However, if someone doesn't do well with beans, psyllium husk can be used instead or you can start with a teaspoon or tablespoon of beans just once a day to get used to the fibre. It's all about starting small and going slow.
Why do the bean protocol?
The bean protocol is said to help with many different health conditions. Conditions like acne, inflammatory bowl disease, diabetes, hormone imbalances, thyroid issues, obesity and more. Now I must preface this by saying the bean protocol has never been studied scientifically so the reported health benefits are based on anecdotal reports alone. Like everything, please always discuss major diet changes with your own doctor or health practitioners before starting, as this diet may not be right for you and your specific health needs.
However, there are many health benefits associated with eating beans, including weight loss, better gut health and improved metabolic markers, so it is likely that the diet's high intake of beans is responsible for the many reported health benefits.
How do you serve beans?
On the bean protocol you can simply add beans to your regular meals, or eat them on their own as a snack. Adding a bit of salt, pepper, chopped cilantro, onion or tomato is one of my favourite ways to eat bean. Of course there are many other ways to add beans to your diet including using them on salads, in soups, stews, curries and more.
Will I get gas eating that many beans?
You might. If your body isn't used to getting a lot of soluble fibre you might notice a lot of gas when you first start eating beans or lentils. If that is the case for you, it is recommended that you start with a small amount of beans and slowly work your way up as your body adjusts.
You may also find that certain beans cause more gas than others so you may have to do a bit of experimenting to figure out which beans work best for you.
Will I gain weight eating that many beans?
You may or you may not. This will likely depend on what you were eating previous to starting the bean protocol. If you were under-eating or malabsorbing nutrients you might gain weight adding beans to your diet (which would be a good thing).
However, if you were eating a more typical North American style diet, or processed food diet before, I suspect you will actually lose weight on this diet, as diets high in beans have been shown to help with weight loss.
As well, because beans are filled with so much fibre, they are very filling so you will likely naturally adjust your food intake to compensate so that you aren't over-eating.
What to expect on the bean protocol?
I have personally not tried this diet myself, so I cannot speak from personal experience but from reading testimonials from others some people do experience an initial detox period when they first start, where they get worsening symptoms before they start feeling better (this can be worse GI symptoms, acne or other skin issues etc). Others don't seem to go through this so it likely depends on what your diet was like before starting the protocol and what health issues you are dealing with.
Where can I get more information about the bean protocol?
I have come across two practitioners who coach clients through the bean protocol. Karen Hurd and Unique Hammond. I have linked their websites there. If you do decide to try this diet I would recommend working with an experienced practitioner rather than trying to navigate this on your own.
Well I hope you found this helpful. If you have any questions please leave them in the comments and if you have tried this diet please let us know how your experience was.
Frequently asked questions:
Can you eat potatoes on the bean protocol?
Yes you can.
Can you eat eggs on the bean protocol?
Yes you can.
Other health information you will like:
Since you made it this far we are basically best friends so be sure to follow me on Instagram, Pinterest, TikTok and Facebook where I share even more recipes and healthy living tips! And don't forget to leave this recipe a star review before you go!
Our expertise:
Dr. Erin Carter, MD, FRCPC, is a physician with board certifications in internal medicine and rheumatology. She is passionate about nutrition, environmental health and low toxicity living and has been doing research and publishing information in this area for years. She is also a self-trained chef and has been creating and publishing recipes since 2015. Her recipes have been featured on many different websites and online publications.
References: