This post will show you how to freeze leeks easily, and in few different ways. Freezing leeks is a great way to prevent them from going bad, and leeks are great to have on hand for recipes like soups, stews, stir fries and more!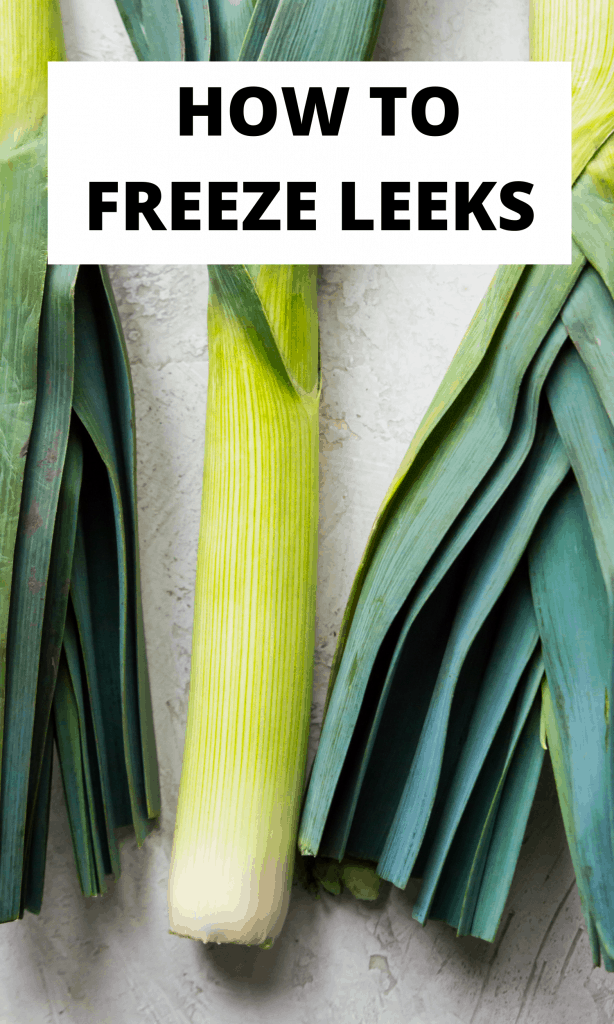 How to Freeze Leeks
Have you ever bought too many leeks not been sure what to do with them? I have, many times. And instead of letting them go to waste or feel like I need to use them all, a great way to keep them for later is to freeze them. In this post I will share exactly how to freeze leeks so that they can easily be used for recipes when you are ready.
How to freeze leeks: what to do first
With leeks, before you freeze them, you want to be sure to clean them. Leeks can hold quite a bit of dirt or soil as soil can get trapped between the layers as the leek grows. Below I will share to different ways to clean leeks. The method you choose depends upon how you plan on using the leeks when you cook with them. Depending on the dish you're making, you'll either use a small or large amount of the green stem. For stocks, most of the leeks can be used, but for stir-fries or braising, only the white part will be used.
How to clean whole leeks
First, cut them in half lengthwise, keeping the root intact. Run water over the whole leek rifling through the layers to give them a good rinse, and be sure that all the dirt gets removed.
How to cut leeks
To cut a whole leek, remove both the root and dark green leafy ends. Slice the remaining white stalk in half lengthwise, then chop crosswise to create half-moon shaped pieces.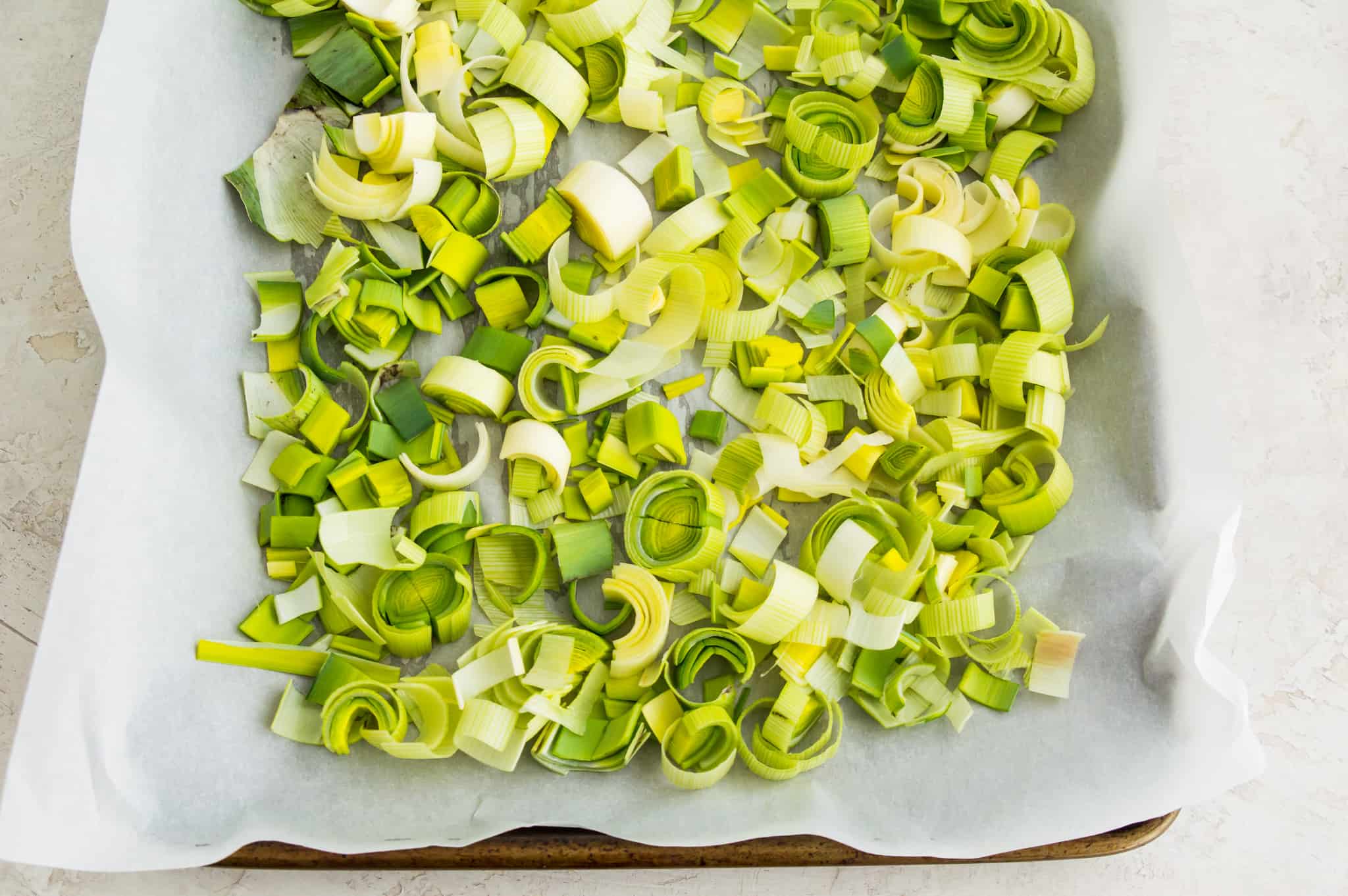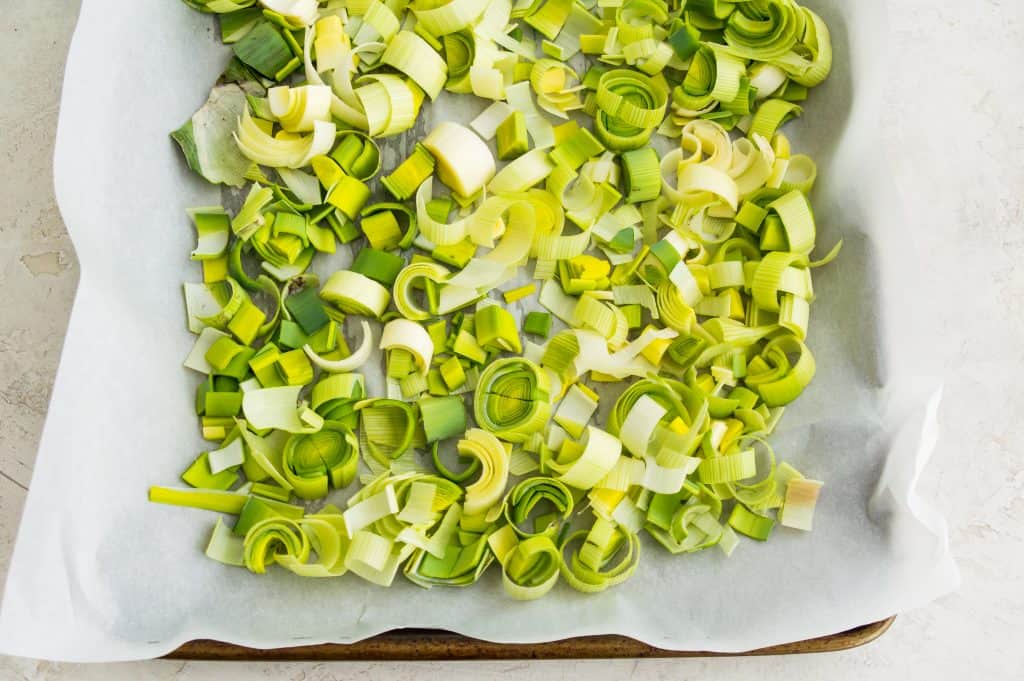 How to clean cut leeks
Place the chopped leeks into a bowl and fill the bowl with cold water. Swish the leeks around vigorously to remove all the dirt. Let the leeks sit for a few minutes, and then scoop out the clean leeks with a slotted spoon.
How to freeze leeks
After they've been cleaned, place the cut leeks on a clean, dry towel and allow them to air dry. Flash freeze the leeks by placing them on a baking sheet in a single layer, and then place the baking sheet in the freezer. Placing a sheet of parchment paper on the tray can make transfer of the leeks a little easier. Once frozen, transfer the leeks to a re-usable freezer-safe container or air tight bag and put them in the freezer.
How to use frozen leeks
Use the frozen leeks within 5 to 6 months (or before they get icy) for optimum flavour. When you are ready to use them, simply add them to recipes. There is no need to thaw them first.
Frequently asked questions:
Do you need to blanche leeks before freezing?
No there is no need to blanche leeks before freezing them.
How do you defrost frozen leeks?
For most dishes there is no need defrost leeks before using them. You can simply add the frozen leeks to the dish you are cooking. The heat will defrost the leeks. However, if you are using the leeks for garnish, you can thaw them by leaving a pack of frozen leeks on the counter. It should be ready to use after about an hour.



Looking for a delicious leek recipe? Try my Chicken and Leek Risotto!
Other information you might like:
SINCE YOU MADE IT THIS FAR WE ARE BASICALLY BEST FRIENDS SO BE SURE TO FOLLOW ME ON INSTAGRAM, PINTEREST AND FACEBOOK WHERE I SHARE EVEN MORE RECIPES AND HEALTHY LIVING TIPS!
Pin this post for later: