This guide will teach you how to freeze chillies. You can freeze them whole or prepare and cut them first. Freezing chili peppers is so easy and they will keep in the freezer for up to 6 months. There is no need to blanch them before freezing, you can simply freeze them fresh.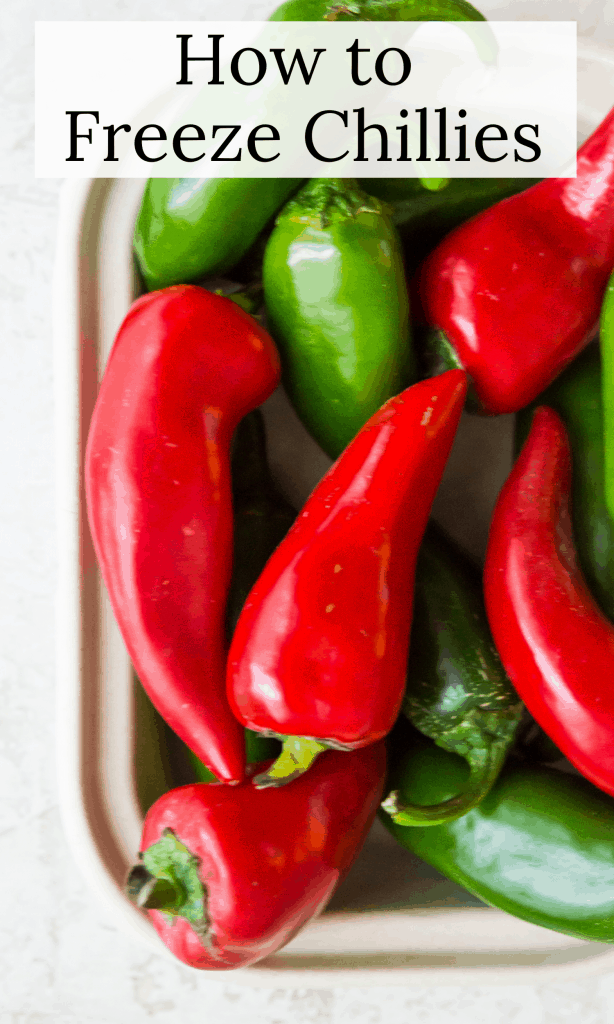 How to Freeze Chillies
If you're like me, when you buy chili peppers you always end up buying too many at a time. Instead of letting those chillies go to waste, simply freeze them and use them later! This guide will teach you how to freeze chillies easily. These freezing methods work for red chillies, green chillies, orange chillies and yellow chillies.
There are three easy ways to freeze chillies
To freeze chillies whole:
This is the easiest way to freeze chillies. Simply put the chillies in airtight plastic bags or other airtight containers such as plastic containers. One tip is to make sure that the chillies are completely dry before freezing them, so if you clean them first be sure to dry them. This will prevent ice from building up on the chillies. I also like to label the plastic bags with the date I froze them so that I can use the oldest ones first when I pull them from the freezer.
To freeze prepared chillies:
First prepare the chillies by cutting the stocks/ stems off. If you are using larger chili peppers you can also remove the seeds and the membranes. Then place the prepared chili peppers onto a baking tray and place them in the freezer. After a few hours place the frozen chillies into small plastic bags and place them back in the freezer.
To freeze cut chili peppers:
There are a couple ways you can freeze cut chili peppers:
Lay the cut chili peppers out on a baking tray and place the tray into the freezer. Once frozen, place the chillies into plastic bags and put the bags back into the freezer.
You can freeze them in ice cube trays. To do this, place a few pieces of chopped chili peppers into each ice cube tray mold, and then fill the tray with water. Freeze the ice cubes, and once they are completely frozen, take the cubes from the trays and put them into plastic bags. When you are ready to use them, take one or two cubes and either thaw them or add them directly to the dish you are cooking.
How to thaw the frozen chili peppers
To thaw the frozen peppers, simply remove them from the freezer and let them come to room temperature.
How to use frozen chili peppers:
To cook with the frozen chillies simply thaw them and then use them as you would fresh chili peppers.
Tips:
Make sure you remove the air from the plastic bags before they go into the freezer.
It is recommended that you wear gloves when handling hot chili peppers. Capsaicin, the chemical that makes chili peppers hot, is an oil that can get onto your skin and cause a burning sensation and the gloves will prevent this from happening.
Label the plastic bags with the date before freezing them so you know how long they are good for in the freezer.
Frequently asked questions:
Does freezing chillies make them hotter?
Nope! I don't know where this myth came from but you don't have to worry. Freezing chillies won't change how they taste or their heat level.
How long can you keep chillies in the freezer?
Typically between 3 and 6 months. After 6 months, they start to lose quality and may get freezer burnt.
Can you freeze peppers without blanching them?
Yep! There is no need to blanch chilli peppers before freezing them. You can simply freeze them fresh.
Other posts you might be interested in:
SINCE YOU MADE IT THIS FAR WE ARE BASICALLY BEST FRIENDS SO BE SURE TO FOLLOW ME ON INSTAGRAM, PINTEREST AND FACEBOOK WHERE I SHARE EVEN MORE RECIPES AND HEALTHY LIVING TIPS!
Pin this post for later: