This post shares 35 ethical loungewear brands. All the ethical and sustainable loungewear items you could every want including jumpsuits, sweatpants, rompers, dresses, joggers, sweat shirts and more. Who says being comfy can't be stylish and good for the planet too?
Since the pandemic started loungewear has become more and more popular. With everyone spending more time at home, comfortable clothing has become the new normal. Luckily, there are so many great ethical and sustainable loungewear brands out there now so you can not only feel great wearing the clothes, you can feel great knowing they were made by employees who are treated well, while respecting the environment and using eco-friendly materials and practices in the process.
The fashion and textile industry is considered one of the top polluters. And one of the heaviest consumers of natural resources in the world. The industry produces 20% of wastewater and creates more greenhouse gas emissions than all international flights and maritime shipping combined (reference). That's why it's so important to choose clothing brands who focus on sustainability as well as ethical practices.
In this post, I am sharing a round up of 35 ethical loungewear brands that offer all sorts of styles including tees, hoodies, sweatshirts, bed socks, rompers, pants, and everything else you need to stay super comfy and cozy. And if ethical and sustainable clothing interests you, you will love my other post on Ethical and Sustainable Underwear Brands.
Note that the majority of these links are affiliate links whereby I make a small commission if you order through the link. Doing so does not cost you anything extra but allows me to continue providing all the free content that I do. I truly appreciate your support in keeping this site up and running.
Ethical Loungewear Brands
Thought Clothing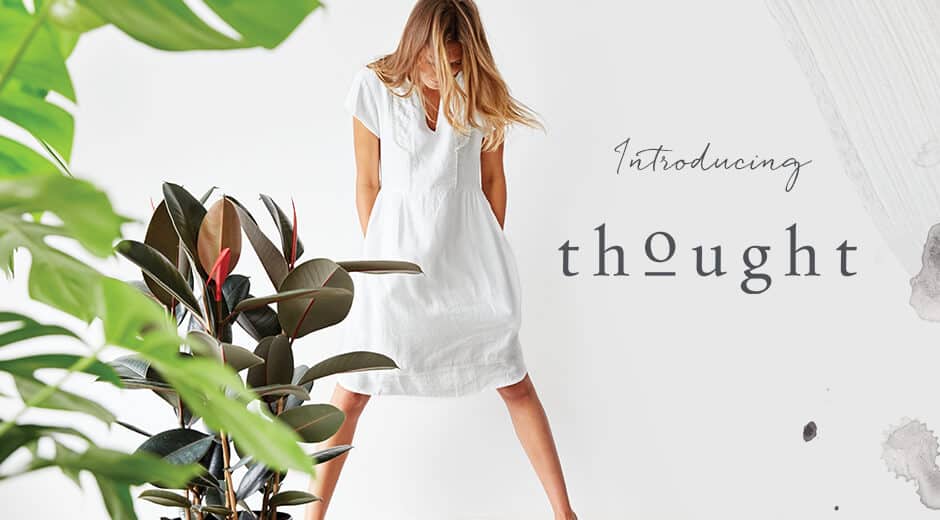 One of my favorite ethical clothing brands, Thought Clothing makes so many amazing pieces for everyday wear for both women and men. But they also make some great loungewear. Thought is committed to considered design, responsible sourcing, and fostering change. They put thought into everything they do - from how they source materials, to how they give back and inspire the fashion industry. They make every decision with the greatest respect for people and the planet, with sustainability as one of their core values.
My favourite loungewear pieces from Thought Clothing include:
Quince
Quince aims to bring high quality clothing to everyone. They believe that quality should not be a luxury. And their goal is to bring the world's highest quality goods to people at affordable prices. Quince is the most affordable ethical brand that I have come across so far. They're committed to working with factories that meet the global standards for workplace safety and wage fairness. Quince offers the best in organically produced materials and packages their products in an environmentally conscientious way.
My favourite loungewear pieces from Quince include:
Reformation
Reformation is one of the more well-known sustainable clothing companies out there. Their goal is to bring sustainable fashion to everyone. They even built their own factory in Los Angeles to ensure that they provide a safe, healthy, and fair working environment for their employees. They also partner with industry groups like the Fair Labor Association to ensure that all the workers in their supply chain are treated well. Reformation is a certified Climate Neutral company and will be Climate Positive by 2025. They make all types of clothing including a great loungewear collection. My favourite loungewear pieces from Reformation include:
Athleta
Athleta is a certified B corporation, meaning they respect their employees and the planet with everything they do. Best known for their athletic wear, they also make some really great loungewear too. Athlete also values size inclusvity and makes clothing in sizes that range from 00-26. Some of my favourite Athlete loungewear pieces include:
Everlane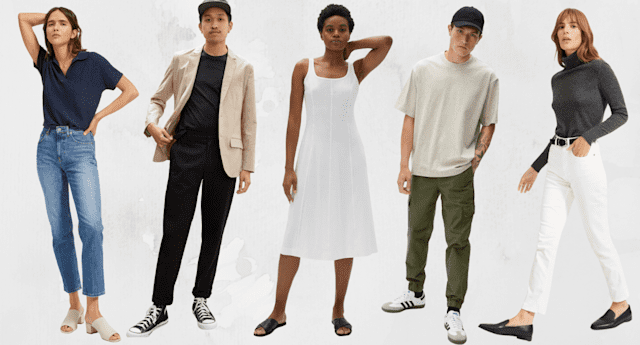 Everlane is another popular ethical clothing brand, best known for their jeans, but who also makes all sorts of other clothing including some great loungewear. In fact, Everlane works with ethical factories around the world and only uses the highest quality fabrics. They choose the highest quality fabrics to ensure their clothes last for years rather than ending up in landfills. They also disclose how much it costs to make their garments, through a policy they call Radical Transparency.
Christy Dawn
Christy Dawn is an American brand that makes both clothing and footwear. Their pieces are locally made in the US using surplus fabric or organic cotton that are coloured with natural dyes or organic dyes. Christy Dawn forges mutually beneficial relationships with all of the people and ecosystems they work with. From the farm and weavers in India to dressmakers and photographers in Los Angeles.
My favourite loungwear pieces by Christy Dawn include:
Yes And
Yes And is a US based brand who makes certified organic, low-impact dyed, and ethically made clothing for men and women. They use fibers, like organic cotton and TENCEL™ Lyocell. Because they care about human health and keeping microplastics out of our oceans. They certify their products to the Global Organic Textile Standard (GOTS) to ensure they are sustainable from seed to skin. That includes using low impact dyes that save water and resources. Yes And also offsets some of their carbon impact by planting mangrove trees, the best and most efficient variety of tree for climate change mitigation. They are aiming to be a Carbon Net Zero company by 11/11/22. They are also committed to fair wages, empowering female farmers, sustaining their local communities, and no child labor. Over half of their workers are women.
My favourite loungewear pieces from Yes And include:
Tamga Designs
Known for their colourful pieces, Tamga Designs is a Canadian company who makes beautiful sustainable clothing. TAMGA offers a range of tops, skirts, dresses, and accessories made from 100% Micro TENCEL® and LENZING™ ECOVERO™. They use ethical practices, and treat their employees well and pay them a living wage. They also eliminate plastics by packaging their clothing in bio-degradable bags made from cassava starch.
My favourite loungewear pieces from Tamga include:
Amour Vert
Amour Vert is a versatile ethical clothing brand that makes everything from beautiful silk dresses to comfy, cozy loungewear. Since 2010, their commitment to the environment has led to the pioneering of new fabrics and the conscious adjustment of their business practices across the board. Instead of investing in trends that inevitably lead to the landfill, they are dedicated to addressing the environmental impact of everything they design before it goes into production.
My favourite ethical loungewear pieces from Amour Vert include:
Rowe Apparel
Another Canadian brand, Rowe Apparel makes ethical, eco-friendly, cool and comfy clothes for everyone, including kids and babies. They started their brand making baby clothes, with the realization that snaps were the worst. After countless prototypes and an obsessive search for the perfect fabric, zipper, pattern and fit, they created the Zomper. Today, along with the game changing Zomper, ROWE is working on new garment designs that align with that same vision.
Harvest and Mill
Harvest and Mill pieces are grown, milled, and made in the US, supporting American organic cotton farmers and local sewing communities. The brand makes basics for everyone, always ensuring they are not dyed or bleached, greatly reducing the use of water, energy, and dyes. Even more, by cultivating different types of cotton, they are able to increase biodiversity, which is essential for ensuring healthy ecosystems.
My favourite Harvest and Mill pieces are:
ADAY
ADAY is a New York brand that takes its sustainability efforts very seriously. From eco-friendly materials like recycled scuba fabric to its commitment to minimizing water waste, ADAY's clothing will not harm the Earth. They also ensure their employees are treated well and respected.
My favourite pieces from ADAY include:
Threads for Thought
Threads 4 Thought carries everyday basics, workout wear, and other styles that align with the brand's sustainable mission. Their clothing leaves a much smaller impact on our environment, supports in-need communities, and assists in changing the narrative and understanding of ethical standards within the fashion industry. T4T Sources the world's most sustainable materials, including Organic Cotton, Recycled Polyester, and Lenzing Modal. Their factories hold the highest certifications in the industry, ensuring the best working conditions, and the highest level of sustainable production processes. As well, their partnership with the International Rescue Committee allows their profits to benefit in-need communities around the world. Their pieces are also more affordable compared to most other ethical or sustainable brands.
My favourite loungewear pieces from Threads for Thought include:
Vitamin A
Made locally in California, Vitamin A's swimwear and loungewear use a high proportion of eco-friendly materials, including recycled nylon. The brand also uses a waterless process to print its designs, thereby reducing its chemical and water usage and decreasing its environmental impact.
My favourite loungewear pieces from Vitamin A include:
Frank and Oak
A certified B corporation, Frank and Oak is a Canadian clothing brand that prioritizes using eco-friendly materials to make their clothing. Frank And Oak is a leader in sustainable fashion and using innovative fabrics from nature to make products that are thoughtfully designed and better for the planet. They are constantly looking for ways to decrease their environmental footprint even more and are currently working on cutting virgin plastics and polyester from their supply chains.
Some of my favourite Frank and Oak loungewear pieces include:
Pangaia
PANGAIA is a materials science company that is on a mission to save our environment. They create essential products from innovative tech and bio-engineered materials. They create their products with smart technology and use as many innovative elements as possible. And they are constantly developing new, low waste materials, and discovering ways to reduce their environmental footprint.
MATE the Label
MATE the Label is a Clean Essentials Brand made sustainably in Los Angeles with non-toxic, natural, and GOTS-certified organic cotton. By manufacturing locally and using 100% recycled materials for its shipping mailers and boxes, the brand significantly reduces its carbon footprint.
Beaumont Organic
Beaumont Organic is a UK-based slow fashion brand that creates contemporary, conscious clothing for woman. They blend simple styles with ethical production practices and the brand also has its own charitable foundation which supports people in Fiji.
Organic Basics
I've shared about Organic Basics before in my Ethical Underwear Brand post. Besides making underwear and bras they make great loungewear. Organic Basics only works with trusted, certified factory partners who are also working to reduce their environmental footprint. These factories also ensure that their workplace is free of child labor and forced labor, their workers are surrounded in a safe working space, paid a living wage, offered employee perks like free lunch and childcare – and of course, they are treated with respect at all times. They use organic cotton which is grown on the coast of the Aegean Sea without the use of harmful insecticides and pesticides to help prevent soil contamination and other harmful chemical effects.
Ten Tree
A Canadian brand, Ten Tree make sustainable loungewear from organic cotton and the company plants 10 trees for every purchase to help offset any carbon footprint. They are committed to ethical practices and treating the earth with respect.
Encircled
Another Canadian company, Encircled is also a B corporation, meaning they put people and the planet before profits. All their clothing is made in Toronto. They are best known for making clothing that is comfortable, functional and travel friendly.
My favourite loungewear pieces from Encircled include:
Miakoda
If you're all about that organic plant-based lifestyle, then are going to love Miakoda and its organic, ultra-cosy active and loungewear. Inclusive of different shapes and sizes, these ethical and sustainable pieces are all about comfort. Everything is manufactured in an ethical factory in New York City, and all their packing materials are eco-friendly.
KOTN
Yet another certified B corporation, KOTN makes clothing for men and women that is made from premium, traceable, Egyptian cotton. They believe in buying less, and having it last longer. So their clothing is high quality and meant to last for years. They focus on the finest natural fibres, which will biodegrade at the end of their lifecycle, and use an innovative ground-up approach, sourcing directly from the Better Cotton Initiative and small-family run farms in Egypt. They also started the ABCs Project, where, in partnership with a local NGO, they donate a portion of their proceeds from every order to fund and build primary schools in the Nile Delta and Faiyum, Egypt. To date they've funded 10 and built 7.
My favourite loungewear pieces from KOTN include:
Girlfriend Collective
The Girlfriend Collective is focused on ethical and sustainable practices. They make their Maternity Collection with ECONYL®, a fiber made from recycled fishing nets and other waste that would otherwise be discarded into oceans and landfills. By using this recycled material, they help clean the oceans, recycle that waste, and cut out the need for raw materials like crude oil, which are traditionally used in the production of nylon. Their leggings and bras are made from #1 plastic - or Polyethylene Terephthalate, also known as PET. Their fabric is dyed with eco-friendly dyes. All of their textiles are made from recycled materials in a facility in Taiwan, then cut-and-sewn in an SA8000 certified factory in Hanoi, Vietnam, that guarantees fair wages, safe and healthy conditions, and zero forced or child labor.
My favourite loungewear pieces from Girlfriend Collective include:
Colorful Standard
Colorful Standard is an ethical clothing brand that carries styles for both women and men, including many unisex styles. They use sustainable materials such as recycled fabrics, environmentally friendly dyes, recycled FSC packaging, ethical labour practices, and are committed to low waste practices.
My favourite loungewear items from Colorful Standard include:
Back Beat Co.
Back Beat Co. is a women of color owned, California lifestyle brand built with every step and every thread in mind. They focus on making comfy essentials like t-shirts and jumpsuits. They prioritize the ethical and social responsibility of every aspect of creating, producing and selling clothes, before profit margins. This includes holding their fabrics and finished quality to higher standards, raising the bar on working conditions for the people sewing their garments and being environmentally responsible with the materials used to package and get the final product to customers doors.
My favourite loungewear pieces from Back Beat Co include:
Levi's
Yes. The denim brand you know and love. Levi's is more than just denim however. They also make some incredible loungewear. Levi's has always been ahead of the curve when it comes to ethical and sustainable standards. Their Terms of Engagement were instituted worldwide in 1991, ensuring worker protections at every point of their supply chain. As a brand they've established production methods that use less water. They partner with suppliers and local nonprofits in 12 countries to provide health education, family welfare programs and financial empowerment to their employees. Nearly 100,000 workers, most of whom are women, currently benefit from Worker Wellbeing.
My favourite sustainable loungewear styles from Levi's include:
Know the Origin
Know the Origin, also known as KTO, is committed to a 100% transparent production process by developing strong relationships with organic and fair trade producers across India. KTO partners with an audited manufacturer in Tirupur and monitors every step of their supply chain to ensure they treat their employees with respect and limit their environmental impact.
The Ethical Silk Company
The Ethical Silk Company uses a type of mulberry silk which is made in India. The method extracts the silk from the cocoon after the moth has left the cocoon. Mulberry silk is farmed through a production known as sericulture and the result of the production is a beautifully rich mulberry silk which, because of the particular way it is produced, is more like a fine linen with a beautiful matte lustre rather than the shiny finish of traditional silk. Embracing this natural fabric, their products combine a love for quality goods and sustainable practices.
Eileen Fisher
Eileen Fisher is a well known ethical and sustainable clothing brand that makes all the clothing you could ever need to complete your wardrobe, including loungewear. They use responsible materials, use Bluesign Certified dyes, and monitor their supply chain from start to finish to ensure it meets their brand's high standards.
My favourite loungewear pieces from Eileen Fisher include:
People Tree
People Tree makes conscious clothing of all kinds. A pioneer in sustainable Fair Trade fashion, the brand was started in 1991. Every product is made to the highest ethical and environmental standards from start to finish. Their fabrics include organic cotton, TENCEL™ Lyocell and responsible wool, and their clothes are made using traditional artisan skills such as hand weaving, hand knitting, hand embroidery and hand block printing.
My favoriete loungewear pieces from People Tree are:
ABLE
ABLE is a well known ethical and sustainable clothing brand that carries a very wide range of pieces including clothing, shoes and accessories. In fact, ABLE employs and empowers women as a solution to help end poverty. They're also deeply devoted to quality – both in the products they make and the quality of life they aim to provide for their employees. They invest in, train, and educate women so they can earn a living, and help break the cycle of poverty.
My favourite loungewear pieces from ABLE include:
Boden
Boden makes beautiful clothing, including some of my favourite dresses. But they also make great loungewear and comfy clothing too. Boden aims to make high quality clothing so that it will last forever, thus reducing waste. They are a partner of the Good Cashmere Standard which supports sustainable cashmere production. They're switching to use fully recycled polyester by 2023 and use a combination of recycled and organic cotton. They are also moving to make 100% recycled swimwear by 2025 and denim by 2023. Their Leicester warehouse has a zero-to-landfill policy, solar panels on the roof, and recycles more than 500 tonnes of card and paper and nearly 100 tonnes of plastic in an average year. They even use rainwater to flush their toilets!
My favourite loungewear pieces from Boden include:
Summersalt
Summersalt is best known for their swimwear that's made using recycled materials but they also makes clothing and use recycled materials to create fabrics and product packaging. For example they use recycled or eco-friendly materials like TENCEL™, TENCEL Modal, and Cupro. They also visit their factory partners regularly to ensure that manufacturing is done with partners who are committed to the latest certifications across environmental sustainability and ethical labor practices.
My favourite loungewear pieces from Summersalt are:
Tradlands
Tradlands creates pieces you can wear with everything and live in for years to come. Timeless, well-made essentials that redefine the meaning of effortless style. Every product is developed slowly and thoughtfully, with respect for the people they work with and their customers. They work with different partners who hold social welfare and production quality to the highest standards. They employ adults who are paid a living wage, work in bright, clean and airy environments, and choose to come to work. This includes US-based standards of working hours, paying over-time, and never allowing triple shifts. Tradlands performs yearly compliance audits to evaluate employee satisfaction and environmental conditions.
My favourite loungewear pieces from Tradlands include:
SINCE YOU MADE IT THIS FAR WE ARE BASICALLY BEST FRIENDS SO BE SURE TO FOLLOW ME ON INSTAGRAM, PINTEREST, TIKTOK AND FACEBOOK WHERE I SHARE EVEN MORE RECIPES AND HEALTHY LIVING TIPS!
Other posts you will be interested in:
References:
Pin this post for later: