This post shares the best ethical and sustainable underwear brands. Brands that focus on environmentally friendly methods and fabrics, treat their workers with respect, and still create beautiful, high quality lingerie, bras and underwear for everyone in the family including men, women and kids.
Wearing underwear and undergarments including bras, lingerie, and underwear can make you feel more comfortable, more beautiful and more confident. But choosing the right underwear brands is important.
More and more people are starting to look for ethical and sustainable fashion and clothing brands. But most people don't think about their underwear when it comes to these issues. Unfortunately, the fashion industry is notorious for being bad for the environment. As well as relying on child and slave labour, exploiting workers, paying them extremely low wages while working in poor and sometimes dangerous working conditions.
When it comes to the environmental impact, synthetics fibers like polyester and nylon that are commonly used in the fashion and underwear industry shed little plastic fragments called microfibers and microplastics when they are washed. In fact, in 2016, we released 1.3 million metric tons of microfibers and microplastics into the oceans. By weight, that's equivalent to 141 billion plastic water bottles. You can help with this problem by choosing brands that use organic natural fibers instead of plastics-based polyesters.
The other huge issue in the fashion industry is how the workers are treated. And also the conditions they work in. That's why it's so important to look to brands who are using ethical and sustainable practices. Fortunately, in recent years there have been more and more underwear brands committing to ethical and sustainable methods. So you do not have to sacrifice fit, looks or comfort for your values.
21 Ethical and Sustainable Underwear Brands
In this post I will share 21 ethical and sustainable underwear brands who are committed to treating their workers right. And lowering their environmental impact by using environmentally friendly practices.
1. Organic Basics
One of my personal favourite sustainable underwear brands. Organic Basics designs all of their products to be durable and last so that you don't have to discard of them after a few years like most bras and underwear. They only work with trusted, certified factory partners who are also working to reduce their environmental footprint. These factories also ensure that their workplace is free of child labor and forced labor, their workers are surrounded in a safe working space, paid a living wage, offered employee perks like free lunch and childcare - and of course, they are treated with respect at all times. They use organic cotton which is grown on the coast of the Aegean Sea without the use of harmful insecticides and pesticides - helping to prevent soil contamination and other harmful chemical effects.
My favorite Organic Basics products for women include: TENCIL Light Basic Bralette, TENCIL Light Bralette, Organic Cotton Triangle Bralette, Active Thong, TENCIL Light Tanga.
My favorite Organic Basics products for men include: TENCIL Light Boxers and the Organic Cotton Rib Flex Boxers.
2. Parade
Parade is a brand that makes underwear and bras as well as lounge wear. They use recycled materials to make their products including recycled yarn and organic cotton. They also use compostable packaging. Some of their most popular items include their triangle bralettes, ultra soft briefs, plunge bralette, and ultra soft thongs.
They also have further goals to make their brand even more sustainable and eco-friendly including:
By 2022, all their packaging, including cards and stickers, will be recyclable or biodegradable.
By 2023, 100% of their cotton will be responsibly sourced.
By 2025, 100% of their materials, including elastane and trims will come from certified recycled or bio-based sources.
By 2022, they will implement a take-back recycling system to reduce waste even further.
By 2025, 90% of their fabrics will be sourced from ZDHC or Bluesign® certified mills.
By 2025, they'll continue to offset and make commitments to science based targets to get to carbon positivity.
3. Pact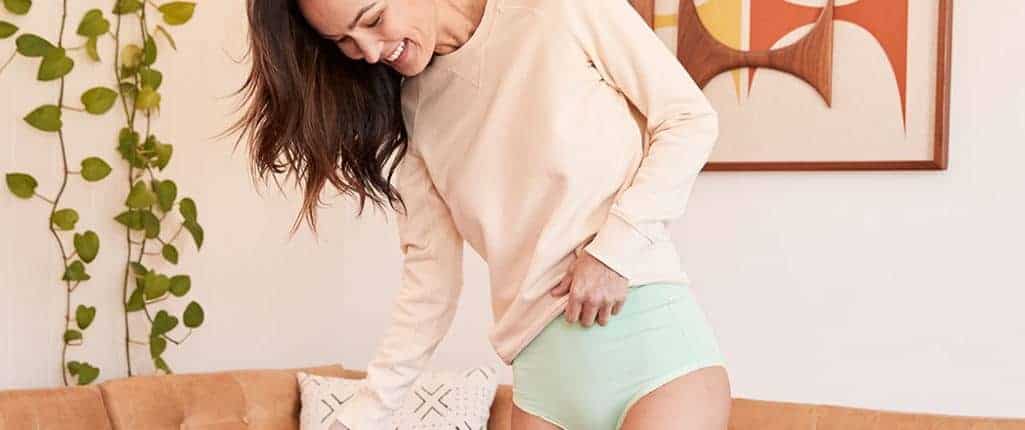 Pact clothing makes both sustainable clothing as well as underwear for both women and men as well as bras for women. They use organic cotton which uses no toxic chemicals and 81% less water than non-organic cotton. As well as fair trade factories to make their underwear and clothing. Some of my favourite items they make for women include their organic cotton underwear and bras including their smooth cup bralette, women's thong, lace waisted brief, lace waist thong. My favourite mens items include their extended boxer brief, boxer brief and briefs.
4. Boody
Boody is a sustainable brand for both men and women. They focus on sustainable materials by using organic bamboo. As well as cruelty free practices that do not harm animals. They also minimize as much waste as they can through innovative practices such as kitting their garments in tubes. Resulting in very little waste compared to traditional cut-and-sew manufacturing. Bamboo is great because it doesn't require pesticides, fertilizers or irrigation to enhance its growth. Their packaging is also made with recycled, post-consumer waste by FSC-certified suppliers.
My favourite women's products include: Padded Shaper Bra, Hipster Bikini, Shaper Bra and Lyolyte G-string
My favourite men's products include: Men's Boxer, Men's Original Boxer, Men's Brief
5. Knickey
Knickey make bras and underwear for women. They focus on sustainable materials and their certified organic cotton underwear uses non GMO cotton that is free from fungicides and toxic insecticides. The cotton is free to bloom naturally without intervention. And is handpicked in India, creating jobs for local communities and preventing high energy use from traditional machinery like combines that is used in tradition cotton production. Their organic cotton supply chain uses only Oeko-Tex certified dyes in processing. Which means the dyes are free from harmful chemicals, bleach, and heavy metals. Their orders are packaged and shipped from New York. Using plastic free packaging and their entire process is completely carbon neutral.
They are also Climate Neutral certified and every purchase you make
Some of my favourite Knickey options include their Low Rise Thong, High Rise Thong, The Triange Bralette, The Tank Bralette.
6. Allbirds
Most people know Allbirds because of the shoes they make. But they also recently started making sustainable and ethical underwear for both women and men. Their underwear comes in many colors. And they also have combined eucalyptus fiber and merino to create a super soft, moisture-wicking material that feels amazing against your skin.
The women's underwear options include: The Trino Bralette, Bikini Brief, Trino Brief, Trino Shortie, Trino Thong.
The men's underwear options include: The Trino Trunk, Trino Boxer Brief.
7. Lilova
Lilova is a brand of period underwear who has a focus on sustainability. They are committed to empower women and teens around the world and sustainability is at the core of everything they do. Zero waste is our goal at Lilova.
I recommend this period underwear over many other brands because independent testing shows that they are PFAS and fluorine free.
8. Bambody
Another brand of period underwear who focuses on ethical and sustainable practices. Bambody is designed in Australia and made in China. The bamboo is grown without irrigation. And no fertilisers, pesticides or herbicides are required. Their workers are treated very well. They are paid the award wage and the working conditions are very comfortable. They are also given 2 month's holiday over the Chinese New Year – 1 month more than most businesses in China. Plus Bambody ensures that their period panties are PFAS free.
9. Revol
One more period pantry brand that I am happy to recommend is Revol. All REVOL undies are hand-made in Vancouver, BC. They eliminate any waste during cutting by recycling all of their fabric scraps. And pay all of their sewing staff local living-wages with full benefits. Lastly, if any flaws occur during sewing, they still finish the undies and immediately list them on their Bruised Peach sale, to make sure all undies end up at their forever home instead of the landfill!
10. Opok
Opok makes sustainable men's underwear. Their products are sustainably made without toxic chemicals and pesticides. And instead use fabrics that are lightweight, breathable and made from the highest quality organic materials. Opok gives back a portion of their proceeds to saving the bees and coral reefs. And their manufacturing facilities use organic farming, clean energy (wind and solar), and don't create any toxic runoff.
11. Hernest Project
Hernest mainly focuses on sleepwear and loungewear but they also make underwear. They use sustainable fabrics that feel as soft as silk. All of their fabrics are milled in a BLUESIGN certified facility. And are Oeko-Tex Standard 100 certified, meaning they are free of harmful chemicals. Their Betty Brief is extremely soft and comfortable and comes in many fun designs and patterns.
12. Hu-Ha
Hu-Ha makes eco friendly underwear that are really unique because they're infused with zinc oxide, a natural anti-bacterial that aims to keep your genital area (ie. huha) healthy by inhibiting the growth of bacteria and fungi. These undies are made from TENCEL™ and smartcel™ which its derived from sustainably sourced wood pulp. But they also ship plastic-free and plant a tree!
13. JulieMay
JulieMay makes high quality eco-friendly bras and underwear from certified organic pima cotton and 100% pure silk. This is one of the softest collections of eco-friendly bras and underwear available. In addition to their briefs, JulieMay carries a wide variety of bra styles including supportive underwire, sport, front fastening, and bralette. JulieMay designs are also made for sensitive skins and are certified Allergy Free UK.
14. Made Trade
Made Trade carries a variety of sustainable bras and underwear from various brands that are made from organic cotton and bamboo. They carry a variety of sizes, including plus size. As well as various patterns and designs.
15. Patagonia
Most of you are probably familiar with Patagonia. They are a B corporation who has a focus on both sustainability and ethics. They have a robust environmental and animal welfare responsibility program. And ensure that their products are produced under safe, fair, legal and humane working conditions. They make products for both women and men including clothing, outerwear and underwear and bras.
16. Azura Bay
There are so many great underwear brands on the Azura Bay site. Azura Bay is a curated collection of cute, comfy and conscious lingerie brands, pajamas, and loungewear from a variety of companies focusing on eco friendly fabrics and production processes. For my Canadians, this is a Canadian based website. They also donate a portion of each order to one of three organizations you can choose upon checking out.
17. Sustain by Kat
Sustain by Kat uses plant dyed organic material which is great for those who have sensitive skin or are sensitive to chemicals or artificial ingredients. They make products for women and kids including underwear and bras for women.
18. Mary Young
Ethically made in Canada, Mary Young's pieces are designed to give the wearer comfort and freedom. While feeling stylish and beautiful in their bralettes, panties and loungewear. They make simple, classic designs that are accented with strap and mesh details to make these pieces unique yet comfortable enough for day to day wear.
19. Fortnight
Fornight is another Canadian lingerie brand. Every Fortnight garment is made in Canada with precision and purpose. Their products are designed to extend beyond seasons and trends and are meant to be long lasting and high quality. They make their products in house which allows them to reduce waste wherever possible. And encourages the careful consumption of fewer made-to-last pieces, worthy of care.
20. Thief and Bandit
Thief and Bandit is one more Canadian brand of underwear and bras that focus on sustainability and eco-conscious practices. All of their fabric is printed by hand. And the garments are also sewn by hand. They work with only organic textiles including jerseys, cottons, raw silks, georgette, and french terry. The water based acrylic inks they print with are non-toxic, making them safe for waterways and our oceans.
21. Nude Label
Nude Label makes a variety of bras and underwear that will keep your underwear drawer filled with beautiful, high quality pieces. They only work with factories who share their vision by finding ways to improve their environmental and sustainable practices. The factories they work with also ensure a workplace free of forced labor. And provide their workers a safe working space, ensure they are paid a living wage, and ensure everyone is treated with respect.
I hope you found this helpful! If you use and love any other ethical or sustainable underwear brands please let me know so I can continue to add to this list.
Other posts you'll be interested in:
SINCE YOU MADE IT THIS FAR WE ARE BASICALLY BEST FRIENDS SO BE SURE TO FOLLOW ME ON INSTAGRAM, PINTEREST, TIKTOK AND FACEBOOK WHERE I SHARE EVEN MORE RECIPES AND HEALTHY LIVING TIPS!
References:
Breaking the Plastic Wave: A Comprehensive Assessment of Pathways Towards Stopping Ocean Plastic Pollution." PEW Charitable Trust, 2020, https://www.pewtrusts.org/-/media/assets/2020/07/breakingtheplasticwave_report.pdf
Pin this post for later: