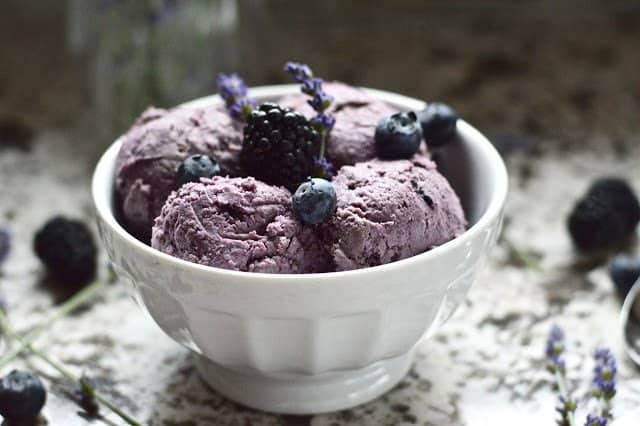 Happy Memorial Day Long Weekend to all my American readers! I hope you are enjoying the extra time off. We had our long weekend last week here in Canada so it's business as usual for me today. But I do have a pretty special recipe to share with you guys today. This Double Berry Coconut Ice Cream is so good!
I need to vent for a second here guys. Last week Canada approved the sale of AquaBounty's genetically modified salmon. It is expected to be on shelves next year. Not only do I have a problem with the product itself, but what's even worse is that this fish will not even be labelled! Honestly it's insane. I truly believe that people have a right to know what they are putting in their bodies. You all know that I consider food to be a form of medicine, and genetically modified food has no business going into our bodies if you ask me. It totally frustrates me that we are just an ongoing science experiment when it comes to food. We really have no idea what kind of long term effects eating this kind of scientifically designed fish will have on human health. Why? Because the studies haven't been done. Unlike drugs, that have to undergo rigorous testing before being approved, food products (as well as skincare and beauty products) are not subject to nearly the same scrutiny. As far as I can tell there have only been a few studies of this fish on humans, using very small numbers of people as test subjects over a very short period of time. Unfortunately, I haven't been able to actually track down these studies to read them myself, so I am basing this on other reports that I have read. I have written to my MP, as well as Health Canada requesting these studies, but so far I haven't heard anything back. I strongly urge you to write to your MP and Health Canada as well, urging them to reconsider this approval, and at the very least to ensure that labelling it will be required. You have a right to know what you are eating! And there is definitely power in numbers! It only takes a few minutes of your time and could potentially make a huge difference.
Okay, deep breath. Rant over…
On a totally different note… do any of you watch Scandal? That has become my guilty pleasure these days. I just finished season 5. Man, the characters on that show are so evil! I am secretly hoping that Olivia and Fitz will get back together. Anyone else? I totally prefer Fitz over Jake. Just saying. It's nice living vicariously through TV sometimes. A total escape from reality that's for sure. And if you aren't watching this show yet, you definitely should! I promise it's addicting.
But let's talk about this ice cream shall we? I know that's why you are really here. There are so many great things about this dish. First, it doesn't have any added sweeteners, so even those of you avoiding sugar can eat this! You're welcome.
Second, it is filled with coconut milk, coconut oil and coconut butter which are all great sources of healthy fats. This also contains grassfed gelatin which is one of my favourite and most recommended superfoods. It is great for gut health, skin, nails, hair and so much more. I have raved about grassfed gelatin before, and you can find my post dedicated to this superfood here.
As well, this ice cream doesn't require an ice cream maker so anyone can make it with the tools you already have in your kitchen. Plus, and most importantly, it tastes great! I may have had more than one bowl the first time I made it.  Perhaps even three…
One tip for this recipe is that it stores best in the fridge. I know that sounds strange for ice cream, but the gelatin in this keeps it firm enough in the fridge after it has been frozen initially. But I guarantee it won't last long in the fridge if your taste buds are anything like mine. But with all the healthy ingredients in this recipe you don't have to feel guilty about indulging in this treat that's for sure.
Happy Eating friends!
Paleo Double Berry Coconut Ice Cream
(Dairy Free, AIP, SCD, GAPS, No Added Sweetener)
Instructions
Place a large pot on the stove

Add the berries, banana and coconut milk to the pot

Using your immersion blender blend the ingredients until smooth (or use your Vitamix or other blender to blend them and then transfer them to the pot)

Turn the heat onto medium

Add the remaining ingredients and allow them to come to a low boil

Simmer for 5 minutes

Slowly stir in the gelatin and stir well to combine

Transfer the ingredients to a freezer safe bowl

Place the bowl in the freezer for 90 minutes
You Might Also Like
Lavender Infused Cherry Ice Cream
Pin This Post For Later: