Avocado Mint Chocolate Chip Ice Cream is going to become your new favourite summer treat. This no churn vegan ice cream is also dairy free and made with coconut milk. This healthy ice cream is easy to make, even without an ice cream maker. 
Avocado Mint Chocolate Chip Ice Cream. Yes ice cream made from avocados. It really is possible my friends. I made it happen with this recipe. This Avocado Mint Chocolate Chip Ice Cream has become my new warm weather favourite. I really think you are going to like it (at least I hope you do).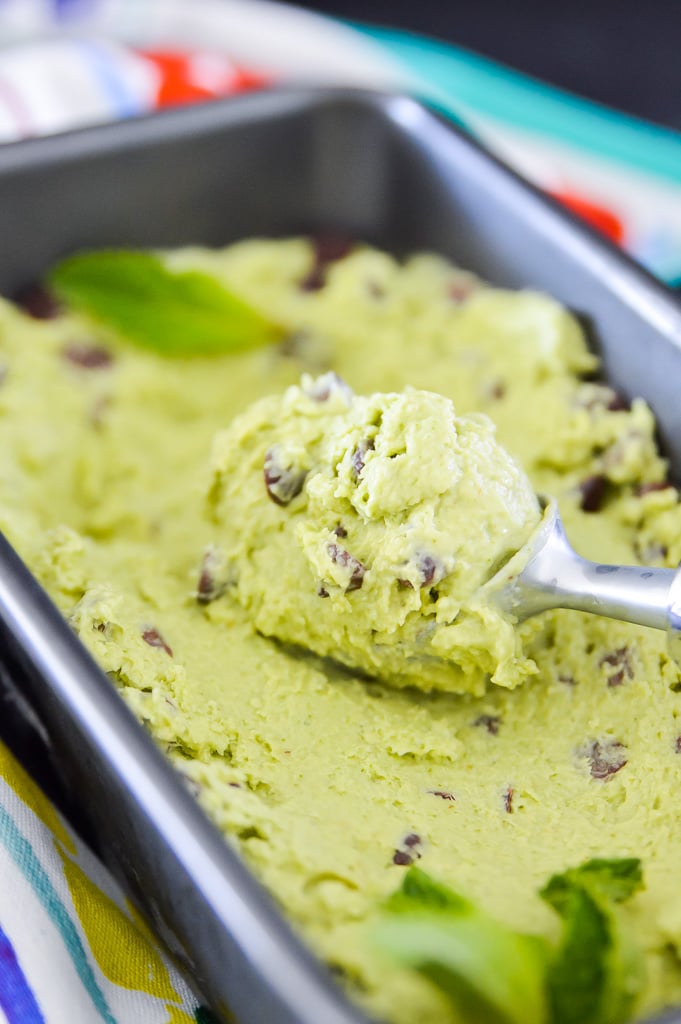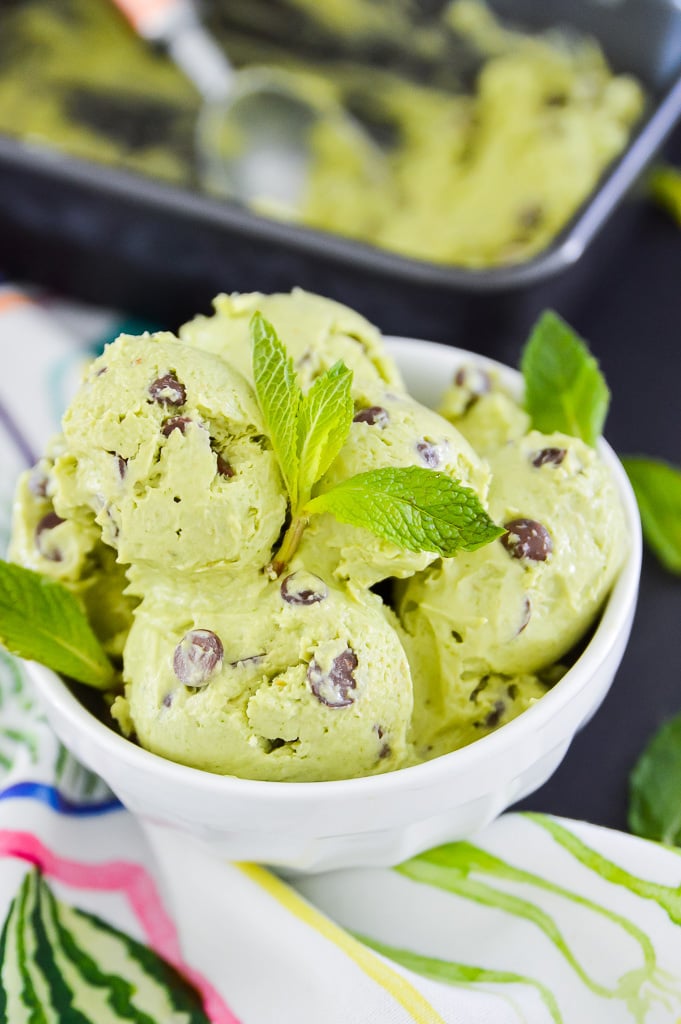 I didn't get a chance to post last week. I was actually in Minneapolis for the annual Beautycounter Leadership Summit. And you guys, it was amazing! My heart came back so full from that trip. So, so full. It was so great to spend an entire weekend with other like-minded women. Women who care about health and wellness, women who are goal driven and willing to work hard, and women who are just plain kind and fun to be around. You probably already know many of the women on my team. Women like Arsy from Rubies and Radishes, Natalie from Honey, Ghee and Me, Liz Wolfe from Real Food Liz (whose book, Eat the Yolks is amazing), Dianne Sanfilipo who wrote Practical Paleo (which is a must read for those of you who are curious about the paleo diet), Kristen from Live, Love Paleo and Cassy from Fed and Fit. I mean come on, who wouldn't want to spend a weekend with those ladies?
I also got to learn about all the new products coming out soon (eek! they are all incredible) and we were given updates on all the progress we are making with legislation in both Canada and the US. It's pretty darn incredible what Beautycounter has been able to accomplish in just a few years. As Maria Shriver said in her key note speech at the conference, "if it weren't for us, no politician would be paying attention to this stuff." And sadly it's true. There is no money in making products safer. None at all. And if the concept of safer skincare and environmental health are new to you, I have a few posts that you should read to give you more information. Posts like Endocrine Disruptors, Toxic Skincare Ingredients to Avoid, 15 Scary Skincare Facts, Could Your Perfume Give You Cancer?, Is There Mercury In Your Mascara? and my FREE guide, Healthy Living 101.
At this point I could not imagine my life without Beautycounter. The friendships I have been able to make, the extra money I make each month and the advocacy work I get to be a part of have been so incredible. If you've been curious to learn more about the Beautycounter opportunity, I highly suggest watching this video that my mentors made recently. I know it sounds totally cheesy but the opportunity with Beautycounter really could change your life. I would be honoured to have any of you jump on board to work with me. If you are at all interested please send me an email and we can chat!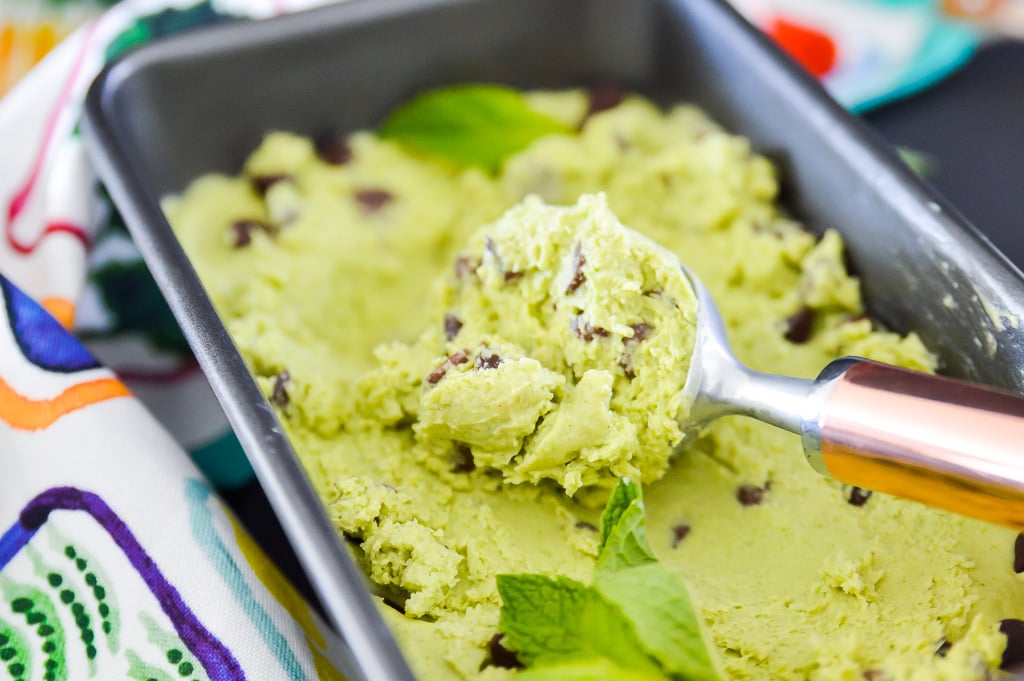 But enough about Beautycounter right? I know you really came here for the food, which is great because the Avocado Mint Chocolate Chip Ice Cream I am sharing with you today is so, so delicious! It's also loaded with healthy fats from both avocados and coconut milk. In fact, avocados are one of my favourite super foods. They really are loaded with many health benefits including:
Are a great source of mono-unsaturated fatty acids
Are a great source of fibre
Are loaded with vitamins and minerals including potassium, vitamin K, folate, vitamin C, vitamin B5, vitamin B6 and vitamin E
And if you have picky eaters at home who won't eat avocados plain, this ice cream is great way to sneak those avocados into their diet. In fact, this ice cream contains the flesh from 3 avocados. Yes 3! Just think of all those health benefits! This Avocado Mint Chocolate Chip Ice Cream is also made using real, fresh mint leaves. It might be rather obvious by the number of mint oriented recipes on the blog but I love mint! Mint anything is a win in my books. If you are a mint lover like me you will also like my Get Your Greens Mint Smoothie Bowl, Chocolate Mint Smoothie, Paleo Mint Crunch Bars, and Paleo Vanilla Mint Ice Cream Cake (just to name a few). And mint combined with chocolate is basically a match made in heaven.
This Avocado Mint Chocolate Chip Ice Cream is compatible with a paleo, vegan or GAPS diet. Like all of my recipes it is free from dairy and refined or processed ingredients. And for some additional health benefits, feel free to add a few scoops of my favourite, Vital Proteins Collagen Peptides. Your gut, skin, nails and hair will thank me if you do!
Until next time, happy eating friends!
Avocado Mint Chocolate Chip Ice Cream
Instructions
Add all of the ingredients, except your chocolate chips to your Vitamix blender and blend well until smooth

Stir in the chocolate chips

Transfer the ingredients into a freezer proof bowl (I used a bread pan) and spread evenly with a spoon or knife

Sprinkle a few more chocolate chips on top

Place in the freezer for 3-4 hours (until frozen)

Remove from the freezer, and let sit until it softens to your desired texture (this will depend on how long you freeze it as well)
You might also like
Strawberry, Mint and Basil Vinaigrette (Paleo, AIP, Whole30, Vegan, GAPS, SCD)
Coconut Mint Fudge (Paleo, Vegan, GAPS, SCD)
Pin this recipe for later: