This Whole30 Coconut Butternut Squash Soup is such an easy and delicious dish. With butternut squash, coconut milk and green onion this soup is also paleo and vegan safe. It is also surprisingly easy to make and will be ready in under an hour.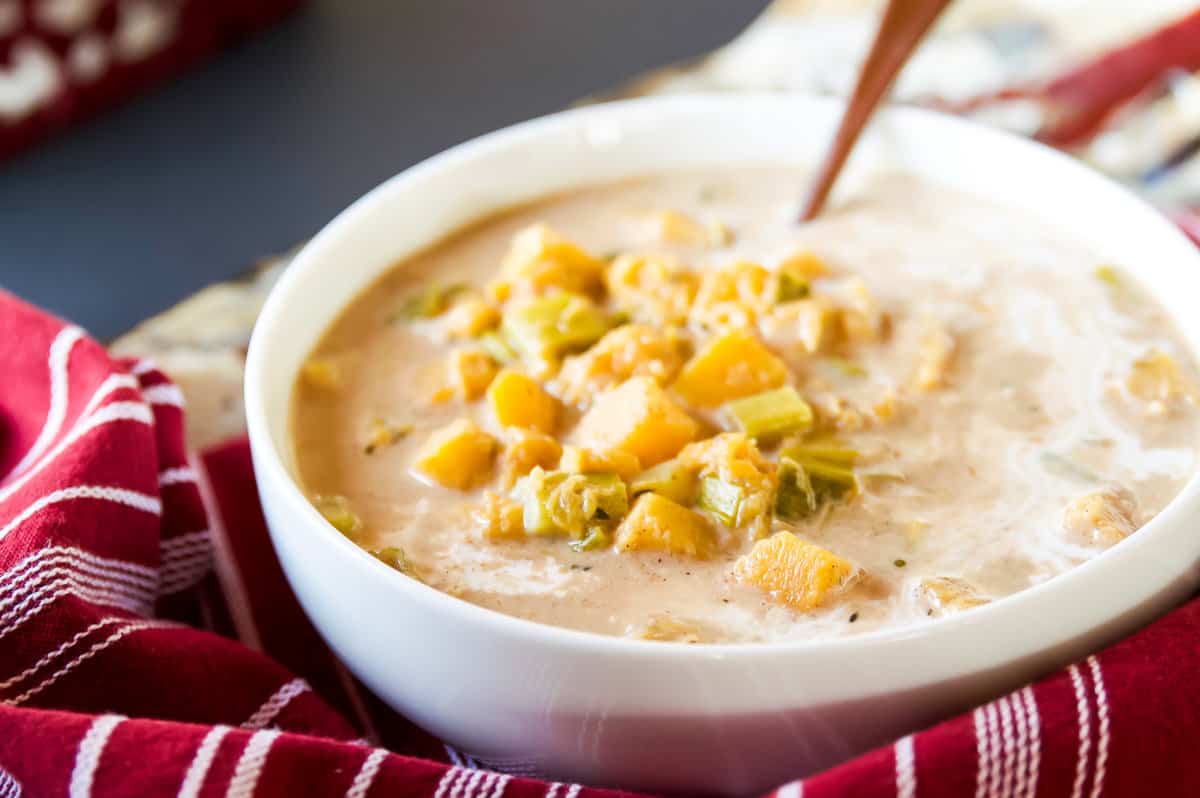 Have you missed me friends? It's been ages since I last posted. I had my blog moved over from Squarespace to WordPress and let me just say there were more than a few kinks along the way. However, we are finally back in business and I could not be more excited! I am going to be able to do so many more things on this platform than I could on Squarespace. You will already notice that my recipe templates are much easier to navigate, and recipes are so much easier to print. And I know you guys don't care that much, but it will be a lot better for my SEO ratings now that I am on WordPress. So even though the transfer process was a total nightmare and cost me a pretty penny I am really glad I did it. Now I can get back to getting you more recipes and health information. Recipes like the one I am sharing today for this Whole30 Coconut Butternut Squash Soup.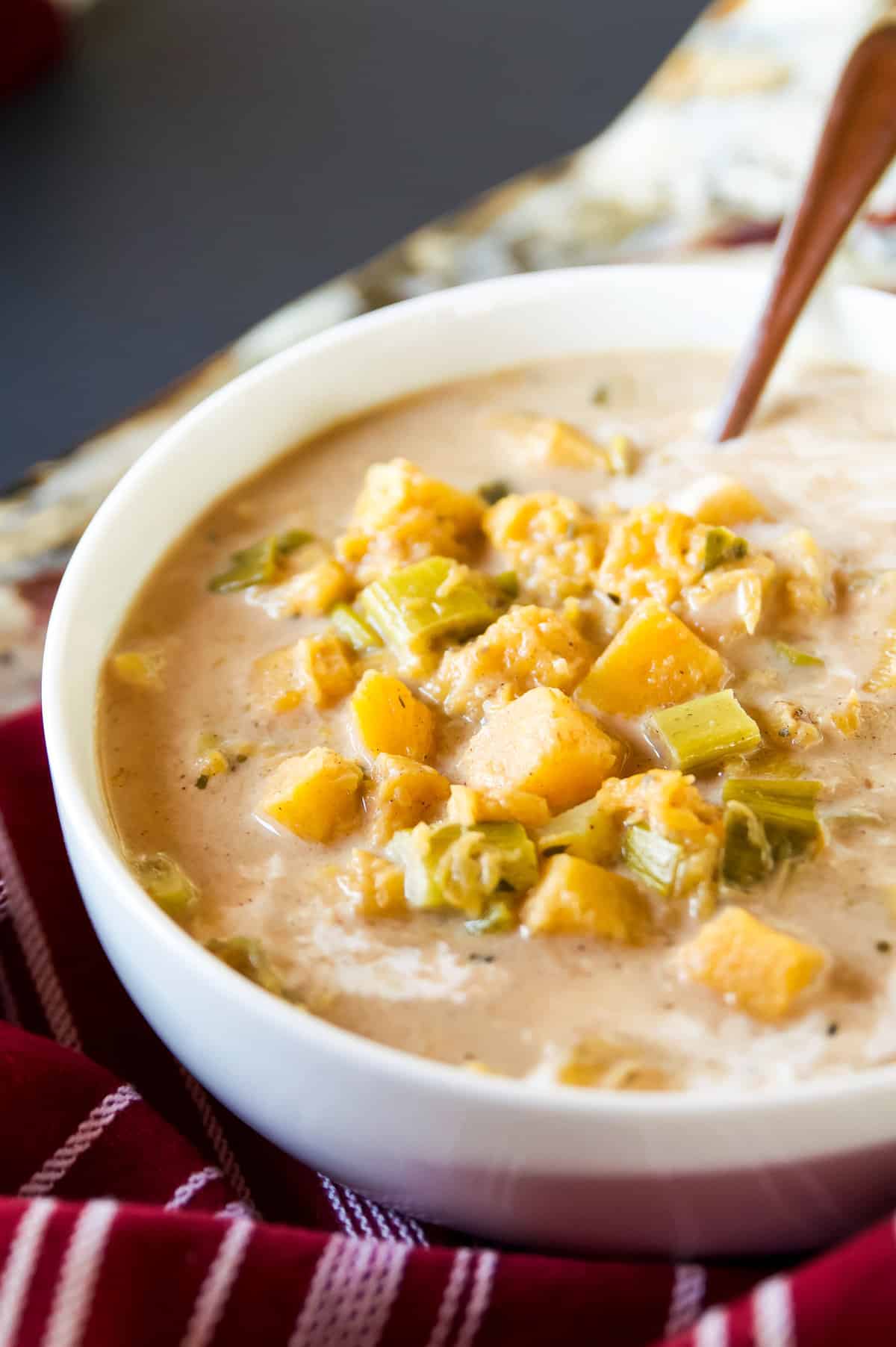 I feel like I should be sharing all sorts of things with you guys since it's been so long since I last posted but for some reason I am drawing a huge blank when it comes to what has happened since I last posted. Clearly nothing too eventful or I would remember! One good thing, for those of you who have been following my C.diff journey, is that I got in to see GI last week! It only took 6 months which to be honest isn't that bad for us here in Canada. I am now booked for a colonoscopy on November 16 (oh joy) but at least I am getting things looked at. I will now be able to find out whether I do in fact have residual colitis after that nasty, nasty infection. My guts are still not happy sadly so I am glad I am getting more testing done. As much as I don't want to do another colonoscopy…. I had one a little over 10 years ago and the prep still haunts me…
But let's chat about food shall we? I know that's why you are really here.
Do you love squash soup? I sure do! It is one of my favourite fall foods. In my mind the perfect comfort food is a giant bowl of butternut squash soup. I could eat butternut squash soup all year round I love it so much. You can pair this Whole30 Coconut Butternut Squash Soup with grass-fed beef or free range chicken and you have a complete meal that won't take you hours to prepare. Easy and healthy, the best of both worlds!
And if you are a soup fan, I have a few other recipes you are sure to love:
I posted a photo of this Whole30 Coconut Butternut Squash Soup on Instagram a couple months ago and I have been getting questions about it ever since. So for those of you who have been patiently waiting for this recipe I am sorry for the delay but I sure hope it was worth the wait.
Why this Whole30 Coconut Butternut Squash Soup is so good: 
It is extremely easy to make! It only contains a few ingredients, all of which I am sure you already have in your pantry.
The blend of butternut squash, coconut milk and spices combines to make the perfect flavour combination.
It's Paleo, AIP, GAPS, keto and vegan friendly.
Variations:
Use bone broth instead of water for some added flavour and additional health benefits (this is the bone broth I use and love).
Add other vegetables such as spinach, cauliflower, or zucchini
Try a different type of squash such as kabocha
Add grass-fed beef or free range chicken to make it a complete meal
Add some ground cumin for a different flavour
Other Recipes You'll Love: 
Where Else You Can Find Me: 
Leave your email to be sent subscriber exclusive deals, recipes and other goodies. No spam ever. Promise!
Whole30 Coconut Butternut Squash Soup (Paleo, AIP, GAPS, Vegan)
Ingredients
800

grams

butternut squash

800

mL

full fat coconut milk

400

mL

water

1

cup

chopped green onion

1

tbsp

ground cinnamon

1

tbsp

ground nutmeg

1

tsp

sea salt

1/4

tsp

ground cumin
Instructions
Add all of the ingredients to a large pot and stir well to combine

Turn on the heat to medium and bring to a boil

Turn the heat down to low and simmer for ~45 minutes
Pin This Recipe For Later: 
You Might Also Like: