Paleo Slow Cooker Beef Stew is the ultimate comfort food. Perfect for cold fall and winter weather, this beef stew is full of flavour and packed with healthy ingredients. It's Whole30, low carb and keto and can also be made in your Crockpot for the perfect weeknight meal.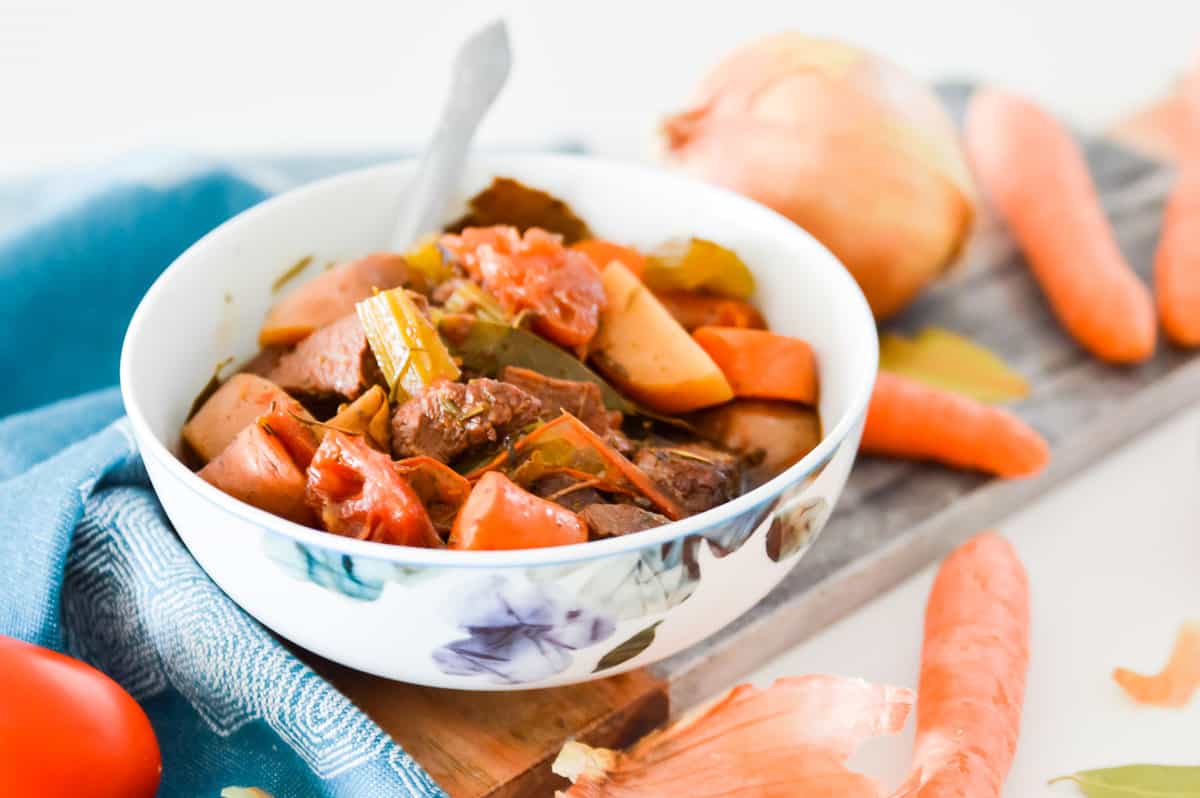 Does cold, fall weather make you crave warm comfort food? Food like soups, stews, chilis, hot chocolate and warm tea? It definitely makes me crave comfort food. And when I think of comfort food there is almost nothing better than a giant bowl of beef stew.
Considering how often I make stew it's a little ironic that I've never published a stew recipe on the blog before. The issue is that I never measure the ingredients when I make stew. I have been making it for so long that I don't even think about it anymore. But I decided it was finally time to actually measure those ingredients so that I could share my favourite stew recipe with you.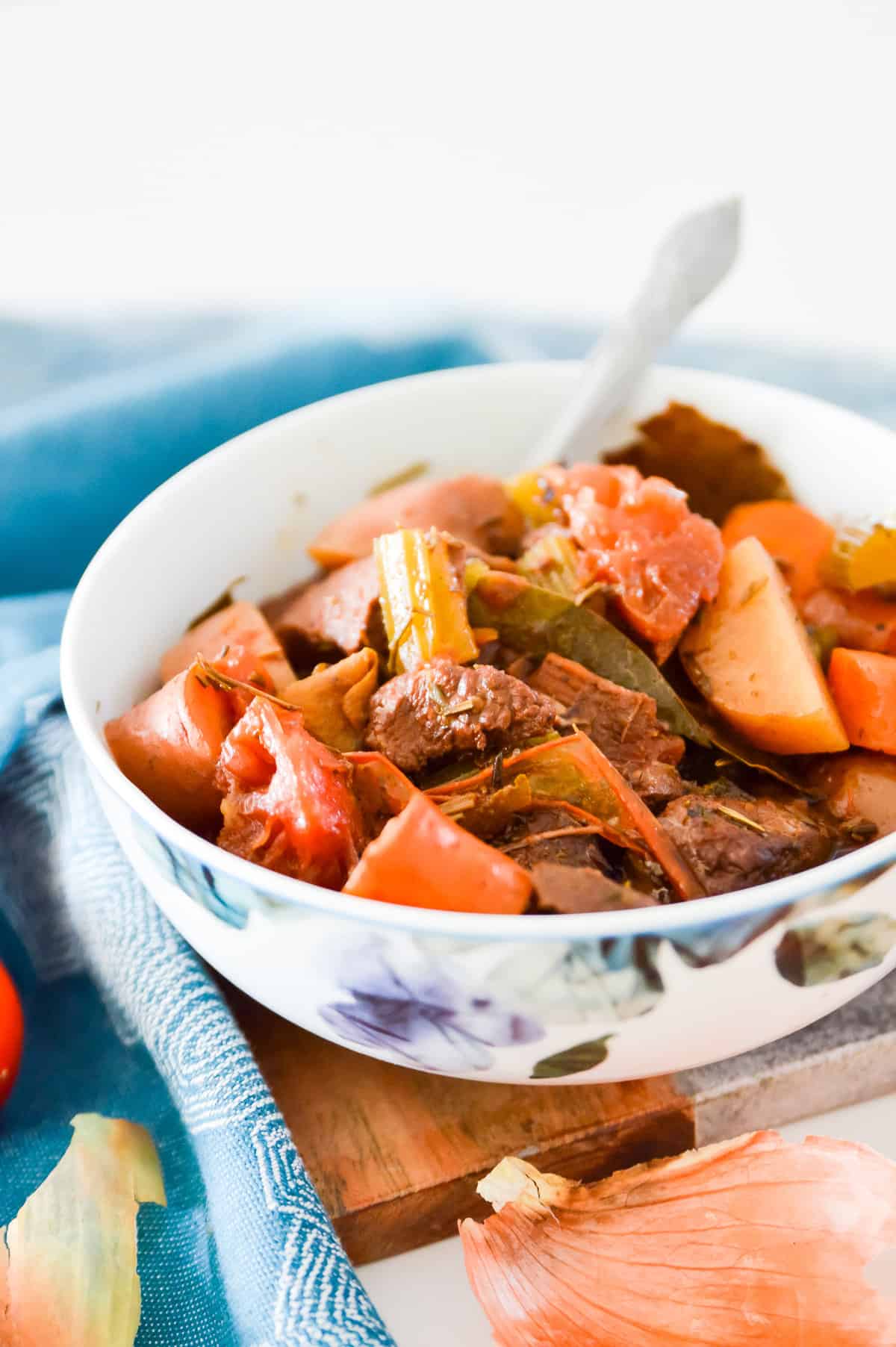 If you don't make stew right it can be pretty boring. Or even worse, the meat can come out tough and tasteless. There is almost nothing worse than biting into a piece of tough, chewy, tasteless beef. Over the years I have learned a couple tricks to guarantee that your stew meat will come out tender and flavourful every single time. Want to know what they are?
Brown the meat ahead of time
Add something to tenderize your meat while the stew is cooking. In this recipe I used red wine. And no, before you ask, the stew doesn't actually taste like wine. The wine simply acts as a tenderizer for the meat. It also enhances the other favours of the stew.
Why this Paleo Slow Cooker Beef Stew is so good:
The meat is melt in your mouth tender and so, so flavourful!
It's made with bone broth, which is one of my absolute favourite super foods. It's great for your gut, skin and nails! I love drinking bone broth on it's own, but sneaking it into recipes is another great way to add it to your day (this is my favourite brand of bone broth that you can buy)
This been stew is actually really easy to make and doesn't require any hard to find ingredients
It makes great leftovers. Because if your house is anything like mine there is no time for cooking meals every night that's for sure!
How to Make Paleo Slow Cooker Beef Stew:
In a medium pan, cook the meat in bacon fat (or your other fat of choice) until it's brown on all sides. This will take about 10 minutes. Cooking the beef ahead of time will help it become even more tender.
While the beef is cooking, add the chopped vegetables, liquids and spices to your slow cooker or crockpot and stir well to combine.
Once the beef is done, simply transfer it and the fat it was cooked in into your slow cooker or crockpot. Again, stir the ingredients together to combine them.
Then turn your slow cooker or crockpot onto low heat and cook the stew for 8 hours. If you can, stir the stew a few times while it is cooking.
After 8 hours, turn the slow cooker or crockpot off and enjoy! Simple as that!
Pair this stew with a slice or two of my favourite Paleo Bread and you've got a complete meal!
If you make this recipe be sure to let me know by tagging me on Instagram! I love seeing you eat my food! You can find me on Instagram here!
How Long Does Stew Take in the Slow Cooker?
I recommend cooking beef stew in the slow cooker for 8 hours. Yes I know that seems like a long time. But the longer you cook it, the more tender your beef will get. And again, no one wants to be stuck eating tough, chewy meat. No one!
Is a Slow Cooker the same as a Crockpot?
Yes! The Crockpot is just a specific brand of slow cooker. You can use them interchangeably!
Can You Put Raw Beef in the Slow Cooker?
Yes you can. But I don't recommend it. While you can simply put your raw stewing beef in the slow cooker to cook, it won't turn out nearly as tender if you don't brown it first. Remember my two tips for ensuring you get tender stew meat? The first one is ensuring you brown the meat first.
Is This Stew Whole30 Compliant?
Sadly no. Because it has red wine (to help tenderize the meat) it isn't compatible with the Whole30 program. But I have plenty of other Whole30 compatible recipes for you to enjoy if that's what you are looking for! Recipes like Whole30 Stuffed Peppers, Whole30 Slow Cooker Chili with Blueberries, Whole30 Cream of Potato Soup, and Whole30 Mango Chicken Curry, just to name a few.
Can You Make This Stew in the Instant Pot?
Yes, yes, yes! To make this stew in your Instant Pot simply follow these directions instead:
To you Instant Pot, add the tomato, onion, carrot, celery, potatoes and beef as you are cutting them. Then add the liquids and spices and stir well to combine.
Close the lid, set the pressure vent to Sealing and press Stew for 30 minutes. Display will say ON and the Instant Pot will take about 20 minutes to come to pressure. You will see a bit of steam coming out from the valve, then the float valve will rise and the countdown from 30 minutes will begin.
When the display says OFF, the stew is ready. Now your Instant Pot needs to bring the pressure down before you can open it, which will be indicated by a dropped down float valve. You can let it do it on its own which will take about 15-20 minutes (called Natural Release) OR you can do through Quick Release by turning the pressure valve to the Venting position, which takes 2-3 minutes. NOTE: I recommend doing so outside. It can be very messy!
Serve and enjoy!
Can You Make This Stew on the Stove?
Yes! If you don't have a slow cooker, Crockpot or Instant Pot you can still make this recipe. Simply follow these directions instead:
In a large dutch oven or pot on medium-high heat, add the cooking oil and sear the meat on all sides for about 2-3 minutes per side. You may have to work in batches so you don't crowd the meat. Remove and set aside on a plate.

Add another tablespoon of oil, then add the onions to the pot. Cook for a few minutes, until the onions start to soften.

Add the wine to deglaze the pot and then stir in the tomatoes and cook for a few minutes, until the tomatoes start to break apart.

Add the beef back to the pot and then add the remaining ingredients and stir well to combine.

Bring the ingredients to a boil, then turn the heat down to low, cover and simmer for 55 minutes - 2 hours (depending on your stove), stirring occasionally, until the potatoes and meat are cooked to your liking.

Serve and enjoy!
Other Slow Cooker and Crockpot Recipes You'll Love:
Slow Cooker Blueberry Coconut Pork Roast
Since you made it this far we are basically best friends so be sure to follow me on Instagram, Pinterest and Facebook where I share even more recipes and healthy living tips! And don't forget to leave this recipe a star review before you go!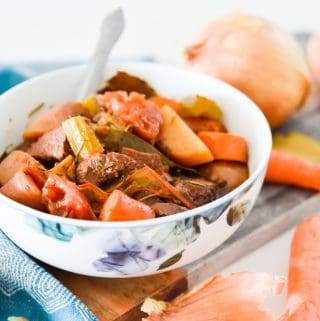 Paleo Slow Cooker Beef Stew
An easy slow cooker beef stew recipe that makes a rich and hearty meal. This healthy stew is packed with vegetables and is safe for the paleo diet.
Print
Pin
Rate
Ingredients
3

lbs

stew beef

(I use grass fed)

2

tablespoon

bacon fat or other cooking fat of choice

3

cups

bone broth

(chicken broth or beef broth will work too)

1

cup

dry red wine

1

onion, chopped

6

tomatoes, chopped

5

carrots, chopped

5

celery stalks, chopped

3

white or sweet potatoes, chopped

10

bay leaves

2

tablespoon

dried rosemary

1

tablespoon

Herbes de Provence spice

1

tablespoon

Italian seasoning

1

tsp

sea salt

(or more to taste)

1/2

tsp

ground black pepper

(or more to taste)
Instructions
Place a medium frying pan on the stove and turn on to medium heat.

Add the bacon fat to the pan and allow it to melt.

Add the stew beef to the pan and cook for ~10 minutes (until browned), turning every few minutes to ensure each side gets cooked.

While the beef is cooking, add the other ingredients to your slow cooker and stir well to combine.

Once the beef is done cooking, transfer it and the fat it was cooked in, into the slow cooker.

Stir the ingredients well to combine.

Turn the slow cooker onto low heat.

Cook for 8 hours, stirring occasionally if possible.
Notes
Browning the beef first will ensure the meat turns out tender and flavourful. If you don't have bacon fat you can use coconut oil, butter or ghee instead. 
Nutrition
Calories:
874
kcal
|
Carbohydrates:
62
g
|
Protein:
91
g
|
Fat:
25
g
|
Saturated Fat:
9
g
|
Polyunsaturated Fat:
2
g
|
Monounsaturated Fat:
10
g
|
Cholesterol:
218
mg
|
Sodium:
1833
mg
|
Potassium:
3300
mg
|
Fiber:
13
g
|
Sugar:
21
g
|
Vitamin A:
13757
IU
|
Vitamin C:
91
mg
|
Calcium:
359
mg
|
Iron:
15
mg
Nutrition Facts
Paleo Slow Cooker Beef Stew
Amount Per Serving
Calories 874
Calories from Fat 225
% Daily Value*
Fat 25g38%
Cholesterol 218mg73%
Sodium 1833mg80%
Potassium 3300mg94%
Carbohydrates 62g21%
Protein 91g182%
Vitamin A 13757IU275%
Vitamin C 91mg110%
Calcium 359mg36%
Iron 15mg83%
* Percent Daily Values are based on a 2000 calorie diet.