This post shares the best tips and tricks for how to get perfume smell out of clothes including dry clean only clothing. Ways like using baking soda, vinegar or lemon juice.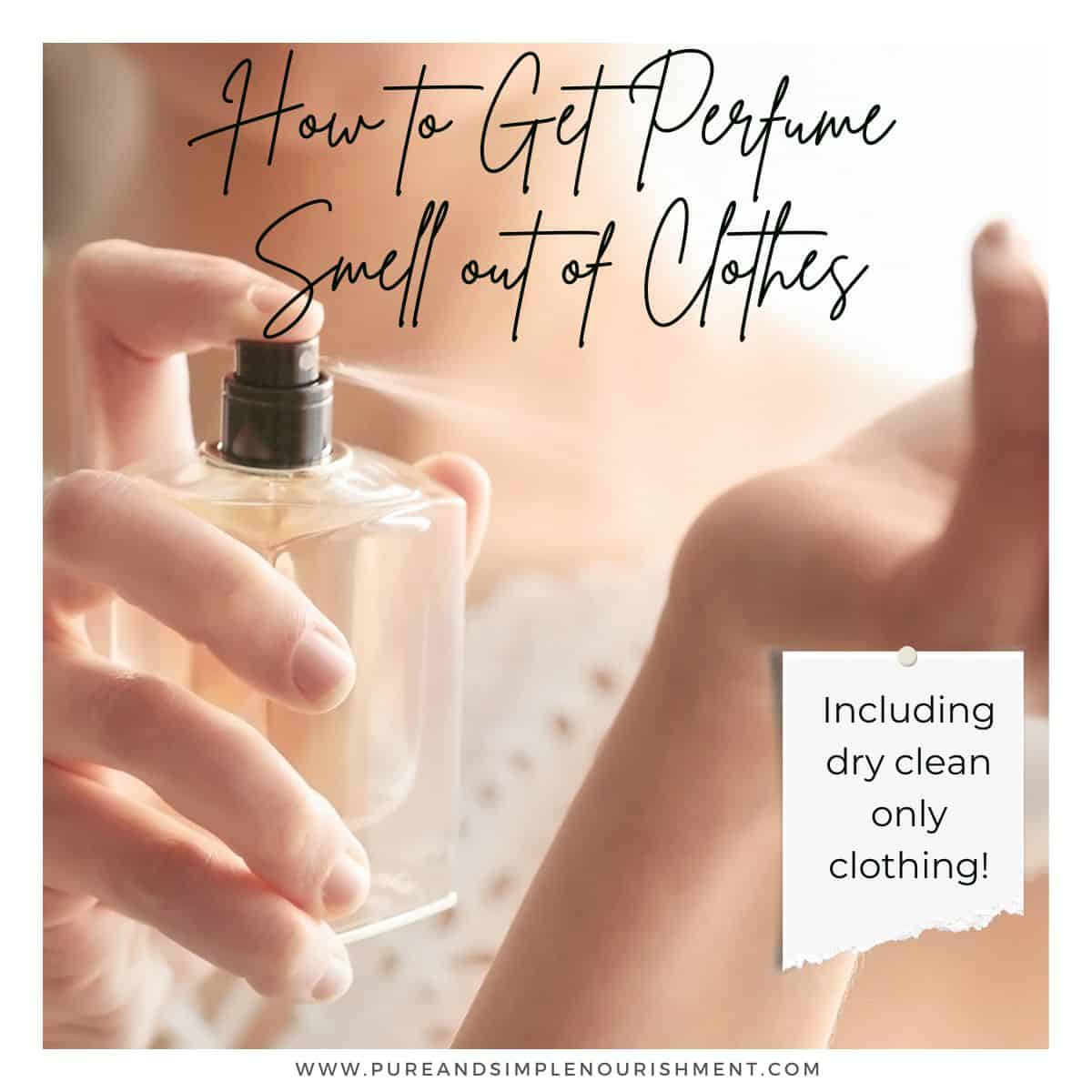 Recently I ordered a dress, and when it arrived it smelled so strongly of perfume that I couldn't even keep it in the house. Now, many people love wearing perfume to help them smell nice, feel good about themselves or even boost their confidence, but I personally try and stay away from perfumes and any artificial fragrances.
If you've been following me for a while you would have heard me talk about the health risks of fragrances (including perfumes) before. In a nut shell, fragrances can contain ingredients that can be bad for our health, including hormone disruptors like phthalates. So if you are like me, you might be looking for ways to get that perfume smell out of clothing. Luckily, you can easily remove perfume smells from clothes with just a few simple tips and tricks, using ingredients that you likely already have at home!
Some scents are harder to remove from clothes than others. Scents labelled as "eau de parfum" are more concentrated than "eau de toilette," and body sprays are the least concentrated types of scents. Fabric softeners and dryer sheet odors are usually the hardest to get rid of since the products use a silicone formula that coats every fiber in the clothing. This is what makes the fabrics feel smooth and soft, but it also makes it that much more difficult to remove. But don't worry, I've got methods below to help you get any unwanted fragrance out of your clothes.
How to get perfume smell out of clothes
Air Out the Clothing
This is the simplest method to remove odors and perfume smells or cologne smells from clothing. This method typically works well for perfumes, colognes, and body sprays, but will likely not be as effective for more stubborn scents from fabric softeners or dryer sheets.
To air out clothing, hang the clothes outside in the fresh air. If you can't hang the item outside, hang it up in a breezy, warm, and sunlit room. If there are plants in the room, even better, as the plants will help absorb the odors. How long the clothing will need to air out will depend on how saturated it is with scent, and the sensitivity of the person wearing it. It can take as little as a few hours or as long as a couple of weeks.
Soak the Clothing in Baking Soda Before Washing
Soak the clothing in a sink or washing machine filled with warm water and one cup of baking soda before washing. You'll want to fully submerge the garment in the baking soda mixed water. How long the clothing needs to soak will depend on how saturated the smell is. Overnight is often long enough, although some scents may require you to soak the clothing for a few days.
Wash the Clothing
Washing the clothing is often one of the simplest ways to get perfume smells out of it. For the wash to be more effective, use the baking soda soaking method described above before you wash the clothes. The other thing that can help remove odors from the clothing is to add some vinegar to the wash. You can do this by adding 1/4 cup of distilled white vinegar to the fabric softener dispenser of your washing machine. The vinegar will help cut through the perfume residue in the clothing fibers. Now, when washing your clothes I always recommend using a non toxic laundry detergent, and you can read more about why I recommend non toxic laundry products here.
Dry Clothing in the Sun
After you've washed your clothing, drying it outside in the sun can help further eliminate odors. Just be careful with coloured clothing as the sun can fade them.
Use Lemon Juice and Water
The acidity of lemon juice can help remove scents and odors from clothing. To do this, mix a 1:1 solution of lemon juice and water in a spray bottle. Spray the lemon water solution onto the piece of clothing where the scent is concentrated (you can even spray the entire garment if you wish). Then use a soft brush, such as a toothbrush, to brush the clothing, especially where the scent is concentrated. This helps ensure the solution penetrates the fabric to help it better remove any scents. Then let the garment dry.
Use a Vinegar Solution
Similar to the lemon juice method above, you can mix a 1:1 solution of white vinegar and water (for example 1 cup of vinegar with 1 cup of water) in a spray bottle and then spray it over the garment and allow it to dry.
Use Vodka
Yes vodka. It's not just for drinking. It's actually great for removing odors from clothing. The nice thing about vodka is you don't need to dilute it, you simply pour the vodka into a spray bottle and spray down the stinky areas of the clothes. Then allow it to air dry and say goodbye to any unwanted odors or scents.
Store Clothing Properly
Try not to store clothing with a strong perfume odor. The perfume will just settle into the fabric and the scent will still be there when you take the clothing out next season. If you don't have time to clean the clothes before storing them, you can place the scented clothes in a sealed plastic tub or heavy-duty plastic bag with a box of baking soda. The baking soda will absorb the odors, just like it does in your refrigerator!
How to get Perfume out of Dry Clean Only Clothing
Besides letting the clothing air out, and storing clothing properly, the other methods above can't be used for dry clean only clothing. Dry clean only clothes need to be handled differently when it comes to getting perfume out of them. Because of their delicate nature, normal water-based methods will be too harsh and leave them saturated in moisture. Instead, use this more gentle method to get perfume smells out of dry cleaner only clothes.
Place the clothes in the sun
For dry clean only garments, the first step is to let them sit in the sun. The sun and wind may completely remove much of the scent, and if nothing else it will dilute it before moving onto the next step.
Put the clothes in a box or wardrobe with a scent absorber
If the perfume scent still remains on your dry clean only clothing after airing them outside, you can then try hanging clothes in an enclosed cardboard box or wardrobe with a scent absorber. There are a couple different scent absorbers that you can try including crumpled up pieces of newspaper or a box of baking soda. Both newspaper and baking soda are items that naturally attract and neutralize scents. Leave your clothes in the box or wardrobe for at least 72 hours, to help get the perfume smell or odor out.
I hope this was helpful! If you have any other tips or tricks for getting perfume smells out of clothing please let me know and I will add them to this list.
Frequently asked questions:
How long does it take for perfume smell to go away on clothes?
Depending on the type of perfume and the type of fabric, perfume can stay on clothing for months to years after it has been sprayed on the fabric.
How do you neutralize the smell of perfume?
If you sprayed too much perfume on your skin you can try to wash it off, or use a cotton ball dipped in alcohol to rub or dab the area where you sprayed the perfume to help neutralize the smell.
Other health information you will be interested in: