Learn how to choose the best non-toxic laundry detergent that also works! Laundry detergent that is free of hormone disruptors, allergens, fragrances and other unhealthy ingredients and that is also eco-friendly and good for the environment.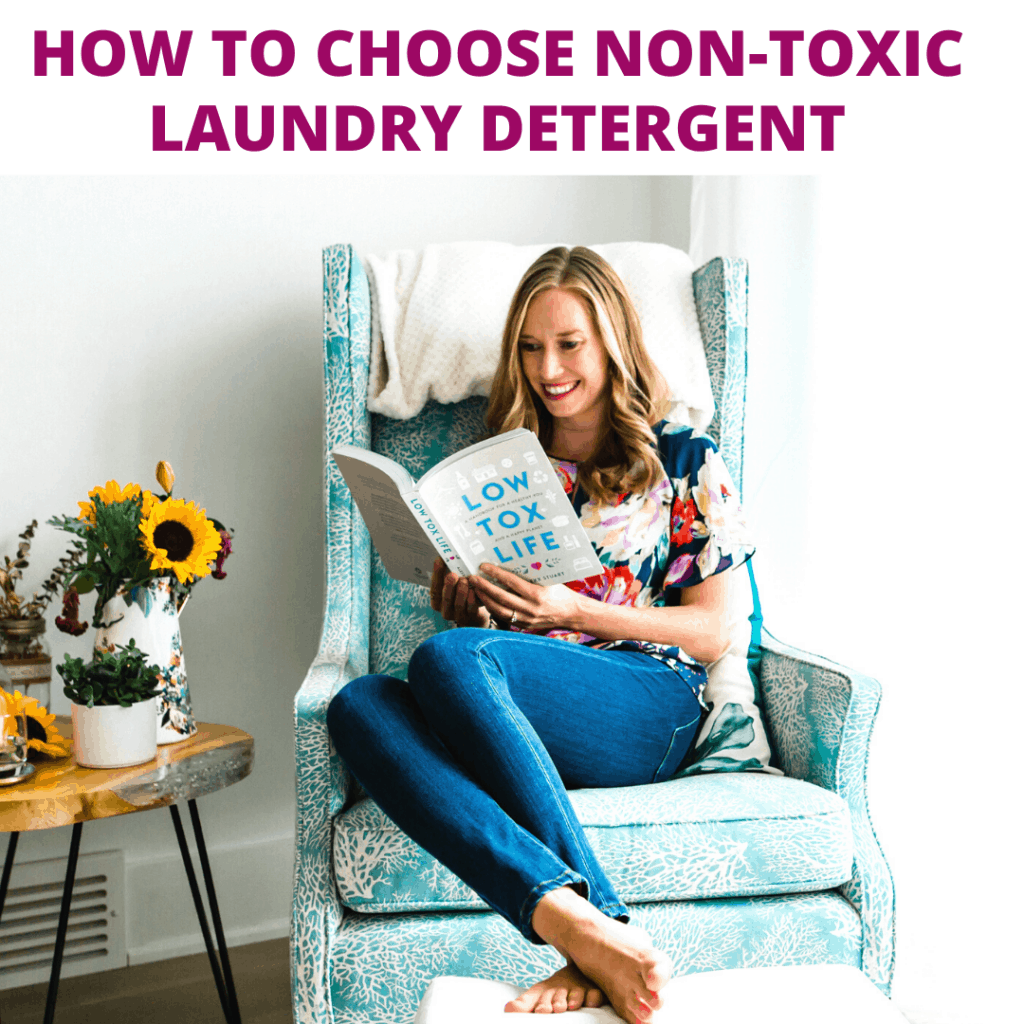 Unfortunately, many laundry detergents on the market contain ingredients that are not safe for our health. Many are also hard on the environment. In this review I am going to teach you how to choose non toxic laundry detergent and review the best non toxic laundry detergent brands that I have tried that actually work.
How to choose non-toxic laundry detergent
Ingredients to avoid
There are many ingredients you want to watch for when reading laundry detergent labels. Here is a list of some of the most problematic when it comes to our health and the environment. Note that not all brands will list the ingredients on their labels. For some you will need to visit a brands website to find out what's in that product. If you are interested in further reading on any of these ingredients, I have included an extensive reference list at the end of this post.
1. Fragrances
The problem with fragrances is that they are considered to be trade secrets (this applies to fragrances used in any industry – whether it be laundry detergent, perfume, shampoo, body wash, deodorant etc). This means that a company doesn't have to disclose the ingredients used to make that fragrance. Hidden within that term could be hundreds of chemicals or ingredients that are harmful to your health. And you don't get to know what any of them are. There are over 3000 different ingredients that a company could use to make a fragrance. And ingredients in fragrances can be carcinogens, hormone disruptors, allergens, airway irritants, neurological-toxins and ingredients linked to infertility.
One of the ingredients used commonly in fragrances that are bad for our health are phthalates. Phthalates are used to help fragrances last longer. Unfortunately, phthalates are hormone disruptors that are linked to infertility, weight gain, lowering the IQ of children, and cancers.
As well, according to the Environmental Working Group, 95% of chemicals used in synthetic fragrances are derived from petroleum and include benzene derivatives, such as toluene, which is known to cause urothelial or bladder cancer. Phthalates in fragrances have also been linked to bladder cancer.
To avoid fragrances look for the words "fragrance", "perfume" or "parfume" on the product ingredient list.
2. 1,4-Dioxane
1,4-dioxane isn't supposed to be used in laundry detergents. But unfortunately, studies have found it to be present in many laundry detergents. When cleaning products and detergents are made using a process called ethoxylation, which is a technique that lessens the severity of the harsher ingredients, 1,4-dioxane is created as a byproduct. Since it is a byproduct of ethylene oxide reacting with other ingredients, 1,4-dioxane is considered a contaminant and doesn't have to be included on product labels so even if you are reading labels carefully, you won't see this unhealthy ingredient listed.
The 1,4-dioxane found in laundry detergent is particularly harmful because the chemical binds easily to water and remains there. Even after water containing the chemical has been filtered, low levels have been detected because it is so difficult to remove.
The problem with 1,4-dioxane is that it is a carcinogen and is also known to cause liver disease, kidney disease and respiratory problems.
3. Nonylphenol ethoxylates (NPEs)
Nonylphenol ethoxylates (NPEs for short) are chemicals that are widely used as surfactants in detergents. Unfortunately, they are known hormone disruptors, or endocrine disrupting chemicals, and mimic estrogen in the body. They can cause hormone problems, nervous system problems, immune system problems, obesity, allergies and breast cancer. They are also known to increase the toxicity of other endocrine disrupting chemicals. And they are also toxic to marine and aquatic life. Meaning, they're not just harming humans but other plants and animals as well. Humans mainly ingest NPEs and NPs through food and drinking water. And the break down products have been found in human urine and breast milk.
4. Surfactants
Surfactants are used widely in laundry detergents because they help the products clean your clothes more effectively. Unfortunately, not all surfactants are created equally and some have concerning health risks. There are 3 types of surfactants on the market:
Natural surfactants:
These are derived from vegetable or animal fats and they are the safest for our health.
Naturally derived surfactants:
These are made by modifying coconut oil or other plant-based fatty acids. Unfortunately, even though they are naturally derived they do have potential health risks. Sodium Laureth Sulfate (SLES) and Sodium Laurel Sulfate (SLS) are naturally derived surfactants that can be eye irritants and skin irritants. While these are generally pretty mild health concerns, another concern regarding these chemicals is that they are known to be toxic to aquatic life. So while the human health concerns are pretty minor, their toxicity and harm to other animals and species must also be considered.
Synthetic or petroleum-based surfactants:
These surfactants have potential health effects and their potential for contamination with other harmful ingredients is higher. One examples of a synthetic surfactant is Ammonium Laureth Sulfate (ALES). Ammonium Laureth Sulfate can be an irritant to the skin, and eyes. But of greater concern is that it is easily contaminated with ethylene oxide during the ethoxylation process, which leads to the creation of 1,4-dioxane. And as we previously discussed, 1,4-dioxane is a known carcinogen.
Polyethylene glycol (PEG) is another synthetic surfactant that can be an allergen to some people. And while for most people this should not be an issue, the other concerns with PEGs is that depending on the manufacturing process, they may become contaminated with ethylene oxide and 1,4-dioxane. Unfortunately, current labelling rules do not require brands to test for or disclose this contamination information. So it would be very difficult for you to find out if the PEGs used in a product are contaminated or not.
5. Phosphates
Phosphates are known to be toxic to aquatic life and harmful to the environment. There is less information regarding their potential toxicity in humans. But there is some evidence linking them to heart disease and osteoporosis.
6. Quaternary Ammonium Compounds (QACs)
Ammonium quaternary compounds (also known as quats or QACs) are used as sanitizing and antibacterial agents in many different industries, including in laundry detergents. The problem is that they are toxic to many aquatic organisms including fish, daphnids, algae, rotifer and the microorganisms used in wastewater treatment systems. Antibiotic resistance has also emerged in microorganisms due to excessive use of QACs in household and industrial applications. Animal studies have also shown QACs to cause mitochondrial dysfunction, decreased fertility, skin irritation, weight loss and lung problems if inhaled.
7. Benzyl Acetate
Benzyl acetate is used as a flavoring agent in foods, as a fragrance in soaps, perfumes and detergents, as a solvent for cellulose acetate and nitrate, and as a component of printing inks and varnish removers. Animals studies have shown this chemical to cause cancer, as well as damage to the brain, liver, kidneys, tongue and skeletal muscles if ingested. Human studies have shown it to be a skin irritant and unfortunately topical application of benzyl acetate leads to absorption of this chemical through the skin. Animal studies have also shown this chemical to lead to reproductive toxicity.
8. Formaldehyde and Quaternium-15
Formaldehyde is a known carcinogen that is quite toxic to both humans and animals. Some companies add formaldehyde directly to their products. While others add Quaternium-15 which is a preservative that releases formaldehyde into the product.
9. Artificial Colors and Preservatives
Some companies will add artificial colors to their laundry detergent to give them a pretty color. Unfortunately, artificial colors and dyes are linked to behavioural issues and ADHD while artificial preservatives, like BHT and BHA, may be carcinogenic or endocrine disruptors.
The Best Non-toxic Laundry Detergents
Now that we've gone through some of the ingredients you want to stay away from when choosing a laundry detergent, you are probably looking for some recommendations for brands that are safe for our health. I have tried a bunch, and sadly many of them didn't work very well so here are my personal favourite non-toxic laundry detergents. Of course, I have not tried every brand on the market so if you have a personal favorite please let me know and I can add it to the list.
Nature Clean Laundry Detergent Strips - these not only work really well but are great for the environment since they don't use any plastic containers!
Attitude Liquid Laundry Detergent - if you like liquid laundry detergents this is a great safe option that works really well.
Country Save Powdered Laundry Detergent - this is a great alternative to powdered Tide!
Nature Clean Laundry Powder, Unscented - another great alternative to powdered Tide.
Seventh Generation Zero Plastic Laundry Detergent Tablets - another great option with no plastic!
Tru Earth Laundry Strips - Another great plastic free alternative. Note that if you look these up on the EWG database they give these strips a C rating, which I normally wouldn't recommend. However, when I reviewed the ingredients they were concerned with myself I was comfortable with them. Of course, you will need to do your own review and decide what you are comfortable with.
Other Non-toxic Laundry Detergent Options:
I have not personally tried these brands so I can't vouch for how well they work but they all have an A rating on the EWG guide to laundry detergents so you know they are safe for your health.
Other posts you might like:
References:
Epigenetic alterations induced by genotoxic occupational and environmental human chemical carcinogens: A systematic literature review.
Fragrance: emerging health and environmental concerns.
Environmental Determinants of Chronic Disease and Medical Approaches: Recognition, Avoidance, Supportive Therapy, and Detoxification.
Inhibition of Polyisoprenylated Methylated Protein Methyl Esterase by Synthetic Musks Induces Cell Degeneration.
Determination of 1,4-Dioxane in Household Detergents and Cleaners
Binary mixtures of alcohol ethoxylates, nonylphenol ethoxylates and pesticides exhibit comparative bioactivity against three pests and toxicological risks to aquatic organisms
Human and Environmental Toxicity of Sodium Lauryl Sulfate (SLS): Evidence for Safe Use in Household Cleaning Products
Final report of the amended safety assessment of sodium laureth sulfate and related salts of sulfated ethoxylated alcohols
Clinical manifestations and impact on daily life of allergy to polyethylene glycol (PEG) in ten patients
Substitutes for phosphate containing washing products: Their toxicity and biodegradability in the aquatic environment
Human health hazard assessment of quaternary ammonium compounds: Didecyl dimethyl ammonium chloride and alkyl (C12-C16) dimethyl benzyl ammonium chloride
NTP Toxicology and Carcinogenesis Studies of Benzyl Acetate (CAS No. 140-11-4) in F344/N Rats and B6C3F1 Mice Feed Studies)