Friends! I know it's been a couple weeks. Did you miss me? Probably not. But that's okay. Either way I have a pretty delicious recipe to make up for it today. Don't these Chocolate Mint Smoothies look amazing? I think they do anyways…
A lot has happened since I last had a chance to post.
I started work as a full, independent doctor last week! Eek! It's both super exciting and very scary all at the same time. I am only working a couple days a week right now because I am busy studying like a crazy person for my rheumatology exams, which are less than 2 months away. Cue the palpitations…
But if all goes well, these will be the last exams I ever write! It's very hard to believe. But doesn't that sound amazing? My last exams ever.
Oh joy…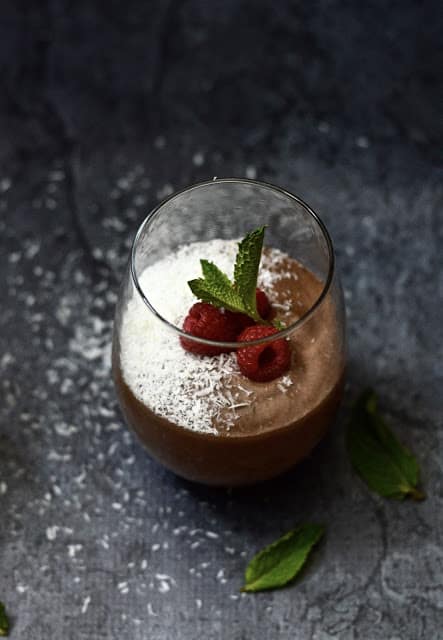 The other thing that happened is the article that I have been working on for the journal, Nature Reviews, finally got officially accepted! You might remember that I have been working on this thing for over a year now. Over a year! If I had really known what I was getting myself into when I agreed to write this thing I never would have signed myself up. The things we do to get through residency. Although that being said, this is a very prestigious journal so it will look very good on my CV. It's important to focus on the positive things right? Right!
I have been on a bit of a smoothie kick lately. They are just so easy and delicious! Plus the flavour combinations are endless. I have so many ideas for smoothies I want to make. I am sure they won't all turn out as good as I imagine they will but the one I am sharing with you today sure did.
If you have been following my blog for a while you have probably come to realize that I try to use very little added sweeteners in my recipes. And while I do think the occasional treat with some added sugar is totally fine, I personally try to avoid added sugars on a daily basis. Which is where this smoothie comes in. It is sweetened only with fruit and coconut. Amazing right? A totally guilt free smoothie option.
I don't know about you but I have always loved the flavour combination of mint and chocolate. Did you ever eat Girl Guide Cookies? I never liked the classic vanilla or chocolate ones very much, but man oh man when they sold those mint chocolate ones at Christmas time you could not keep me away from those bad boys. Or After Eight Chocolates? Oh yum. I hate to think what kind of ingredients are hiding in either of those treats. You can be sure there are a few unpronounceable words in those little delights. But you won't find any of those in this smoothie that's for sure. Only real ingredients here my friends.
In fact, this smoothie, believe it or not, only has 7 ingredients in it! Yep it's not only super tasty (and healthy) but also really easy to make. Because I know you don't have endless amounts of time to slave away in the kitchen. Me either!
Besides being added sweetener free, this Chocolate Mint Smoothie is also safe for the GAPS, Paleo and Vegan or vegetarian diets. Those of you on a low FODMAPS diet should also be able to tolerate this one if you limit it to about 1/3 of a smoothie. The Monash Guide only permits 2 heaping teaspoons of cacao power at a time so I am guessing that would be about 1.5 tablespoons (meaning 1/3 of this smoothie).
Please let me know what you think of this recipe! It would make a great breakfast, snack, or treat. And I bet even your picky kiddies at home won't complain about eating this smoothie.
Until next time, happy eating friends!
And as always I would be thrilled if you followed my social media pages on Instagram, Facebook, Pinterest and Twitter.
Chocolate Mint Smoothie
(GAPS, Paleo, Vegan, Low FODMAP, No Added Sweetener)
Instructions
Place all the ingredients into your Vitamix or other high speed blender
You Might Also Like
Dairy Free Chocolate Mocha Ice Cream
Pin This Recipe For Later: